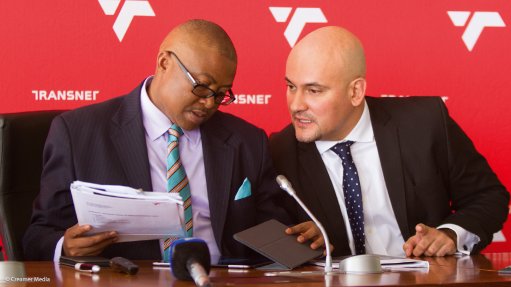 Transnet CEO Siyabonga Gama and CFO Garry Pita
Photo by: Duane Daws
State-owned freight logistics group Transnet continues to pare back its investment portfolio in South Africa, which is expected to grow by less than 1% in 2017.
The group, which operates rail, port and pipelines businesses, expects to invest R229.2-billion over the coming seven years, including the R20-billion already allocated for mergers and acquisitions. Previously, Transnet had planned to invest well over R300-billion during the period as part of its market demand strategy (MDS).
In the six months to September 30, Transnet's capital expenditure (capex) fell 5% to R8.9-billion when compared with the same interim period in 2016. For the full-year, the group's capex is likely to be in line with the R21.4-billion invested last year, which is below the R24.4-billion originally budgeted. Transnet's capex peaked at R33.6-billion in 2015.
CEO Siyabonga Gama reports that the current investment plan is based on "validated demand", but could be expanded should there be a recovery in the economy and particularly in mining-related investment.
Transnet's general freight railways business would continue to attract the lion's share of investment at R102.4-billion, with the immediate focus being to capture market share from road.
During the six months to September 30, the unit increased volumes by 7.9% to 46.5-million tons. However, for the year to March 31, 2018, Transnet is forecasting to increase volumes by 3.3% to 91-million tons, which is below its initial forecast.
During the interim period, Transnet increased revenues by 13.8% to R37.1-billion on the back of the rise in the general freight volumes, as well as a 6.5% increase in export coal railed volumes and an 11.4% increase in railed automotive and container volumes. Net profit increased to R3.4-billion, a massive 230% higher than that achieved during the same period last year.
In the medium-term, Transnet will accelerate plans to increase cross-border revenues, while also pursuing various investment-light innovations as part of its so-called 'Transnet 4.0' vision, which aims to align the business with the fourth industrial revolution.
A target has been set to grow the business into a R100-billion revenue entity by 2020, by increasing exports of rail and port equipment and by pursuing rail, port and pipeline prospects in the rest of Africa and part of the Middle East.
Twenty-four African projects have already been identified, some of which could be realised in the not-too-distant future. The most advanced projects included rail ventures in Zimbabwe, Zambia and Nigeria and a port operations contract in Kenya.
Chief business development officer Gert de Beer says the MDS investments made should enable Transnet to expand to become a R70-billion company. To reach the R100-billion goal by 2020, it would be seeking to raise volumes from investments being made into key cross-border channels, which link exporters in Zimbabwe, Zambia and the Democratic Republic of Congo to international markets using South African ports.
In addition, it will be seeking to export Transnet-made locomotives, wagons and passenger coaches, while adding new products, such as gas, to the new multiproduct fuel pipeline, which runs from Durban to Gauteng.
Group strategy executive Khaya Ngema stresses that the international business ventures have been ring-fenced so as to ensure that they do not endanger Transnet's domestic business. Nevertheless, over time, he expects the international portfolio to account for a "very significant portion of Transnet revenues".
For the immediate future, however, the revenue contribution will be limited as this future "revenue pipeline" is developed.
CFO Garry Pita stresses that the utility is in a strong position to raise the funding required for its investment programme, indicating that the group is fully funded for the current financial year and had already raised part of its capital requirement for 2018/19.
He acknowledges that the domestic appetite for bonds is limited and is likely to remain under pressure until there was greater certainty about South Africa's political environment. However, he says international investors remain interested in funding Transnet, as do several local and international banks, development finance institutions and export credit agencies.
"Our financing requirement for this year was R24.4-billion and I can happily say that the full amount is funded [and] we are actually working on deals now looking at 2018/19 financial year," Pita explains.
The group has financial resources of above R30-billion already, including R4.5-billion in cash.