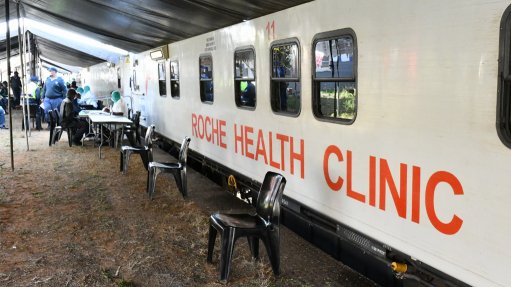 State-owned Transnet's corporate social investment unit Transnet Foundation has converted two of its healthcare trains, Phelophepa I and II, into mobile Covid-19 testing stations,
The trains will be used to increase testing for Covid-19 in some underserviced areas in the Eastern Cape and KwaZulu-Natal.
The Solidarity Fund, together with the Transnet Foundation and the National Health Laboratory Service, has supplied testing kits and personal protective equipment to frontline healthcare staff on Phelophepa I and II.
Since 1994, Phelophepa I and II have provided basic medical help and healthcare education to vulnerable communities across the country. Each train has a permanent staff of 22 healthcare professionals, including nurses and healthcare educators.
To increase testing rates for Covid-19, dedicated doctors and nurses, with specialist training in Covid-19 testing, will visit underserviced areas across KwaZulu-Natal and the Eastern Cape on May 18, using Transnet's rail network.
Solidarity Fund chairperson Gloria Serobe says this partnership is "unity in action", with the Solidarity Fund playing a coordinating role with multiple stakeholders and making real interventions to support government efforts to prevent the spread of Covid-19.
The Solidarity Fund was set up as a quick response entity to augment the national effort in the fight against Covid-19 by helping to determine the magnitude of infections and support measures to flatten the curve by lowering infection rates.
Transnet CEO Portia Derby says the Phelophepa trains are a well-known partner of rural communities in the provision of primary health services. "It is a real privilege for us to now include Covid-19 testing at this critical time."
Eastern Cape Premier Oscar Mabuyane says the Solidarity Fund has approved funding for 400 000 Covid-19 testing kits, costing R250-million to support increased testing for the deadly virus across the country.
"This critical testing intervention comes at a time when we need it most. It will go a long way in mitigating development fault lines exposed by Covid-19 and will help the provinces ramp up their massive screening and testing programmes, especially in the rural parts of these provinces."