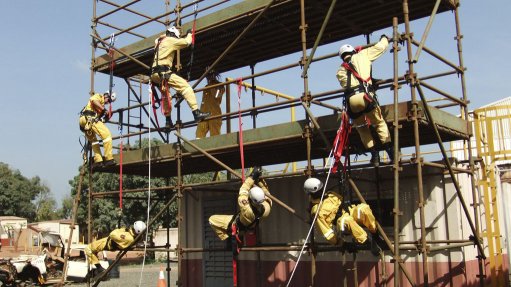 WORK AT HEIGHT Work at height is one of the most common safety risks at all sites
Industrial rope access specialist Skyriders Access Specialists aims to bridge the rope access skills deficit in the artisan industry through offering training at its Midrand-based facility, states Skyriders marketing manager Mike Zinn.
"The general lack of skills in the artisan industry can be traced to poor secondary education standards, and a lack of university and artisan development opportunities."
Skyriders aims to mitigate this challenge by keeping more than 330 rope access technicians trained, competent and skilled in the various artisan disciplines at its training facility, which was established in 2010. All training courses are accredited by the relevant sector education and training authority.
Zinn explains that work at height is one of the most common safety risks at all sites – which can range from a residential area to heavy industry – and can result in disastrous consequences if inadequate training has been received. A well-trained rope access technician, can, therefore, mitigate these risks while safely completing the work, he notes.
Rope access is a skill that enables technicians to safely move between various work positions at height and within confined space, with the scope of work ranging from welding, rigging and painting to inspections for the client, Zinn adds.
With more than 360 rope access technicians employed by Skyriders, Zinn says the training facility also assists with licence renewals, which are valid for three years, so that technicians can continue operating.
"Basic fall-arrest training in a workplace takes one-and-a-half days to complete; training for basic fall-arrest and rescue in a workplace takes two-and-a-half days and the training to qualify as a fall-arrest rescue technician takes six days," Zinn explains, adding that the fall-protection-plan training takes three days to complete.
Meanwhile, rope access technicians are required to complete three levels of training.
Level one can take six days to complete, and levels two and three can each take eight days to complete, with two days focusing on theoretical training and six days on practical training.
"The training facility mainly caters for in-house training needs; however, we do offer training to outside clients from time to time," says Zinn. Training for these clients – mostly from heavy industry – can also be offered on site using a temporary training facility, usually requiring clients to assist in erecting a scaffold tower, he concludes.