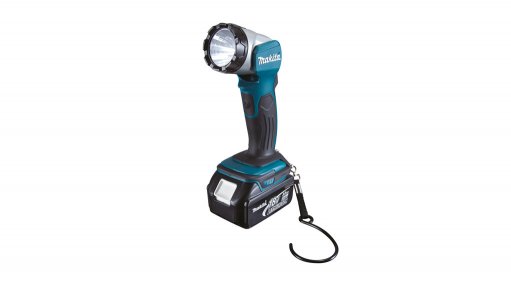 SHEDDING LIGHT The flashlight produces 160 lumens and lasts 50 000 hours
Power tool manufacturer Makita Industrial Power Tools expanded its product range in 2013 with cordless, lithium-ion-powered tools and a corded grinder to better serve the South African power-tool market.
In August last year, it introduced its BUH523Z battery- operated hedge trimmer and its BBO180Z cordless orbital sander onto the market.
The BUH523Z trimmer has an antivibration structure consisting of a motor-crank section and a handle section, which are linked by five cushions to absorb vibration from the blade and motor-crank section.
The stain-free shear blade surface, which is obtained by non- electrolysed nickel plating, can be removed without disassembling the housing and is operator replaceable. It also features a high anti-abrasion surface for extended life and durability.
The blades operate at a rate of 1 350 strokes per minute.
Meanwhile, the BBO180Z sander, which operates on an 18 V lithium-ion battery, features a three-speed button that regulates the sanding pad's speeds – 7 000 rpm at the low-speed, 9 500 rpm at medium-speed and 11 000 rpm at the high-speed setting.
Dust is extracted through eight holes under the sanding pad and collected in a dust bag.
An ideal centre of gravity is achieved, owing to the battery and the tool's motor being situated on opposite ends of the machine.
An abrasive pad diameter of 125 mm can be fitted to the tool.
In June, Makita introduced its GS5000 straight grinder, designed to grind at a maximum speed of 5 600 rpm.
The corded tool uses a 750 W electric motor and can be fitted with a 125 mm disc and weighs 5 kg. The company notes that an automatic cut-out carbon brush stops the motor to protect the commutator when the carbon brush wears out, while a rubberised rear grip features a 'dead-man's switch', which stops the tool, should the operator loose his/her grip.
Meanwhile, in March last year, the company launched the HP330DWE battery- operated drill and the BML802 flashlight.
The HP330DWE drill also uses a lithium-ion battery pack to drive the drill at speeds of 400 rpm on the low-speed setting and at 1 500 rpm on the high-speed setting.
"Drilling speed varies through the operator's level of engaging the tool's trigger, and the battery lasts up to 2.5 hours during continuous use. Adding to user-friend- liness are 18 torque settings built into the drill, a 10 mm keyless chuck, a light-emitting diode (LED) work light, a braking system and a reverse function which [enables] the drill [to] operate in the opposite direction," the company reports.
An impact option, ranging from 0 to 6 000 impacts per minute on the low setting and up to 22 500 impacts per minute on the high setting, is also available.
The BML802 flashlight can last for 50 000 hours and uses a 3.2 W LED that produces 160 lumens of light. The flashlight head can swivel through 12 positions that range from 110° to –60° from vertical.
The 3 Ah battery has a battery life of 13 hours and that of the 1.3 Ah battery is six hours. An exhausted battery reaches full charge in 22 minutes.
In January 2013, the Makita battery-operated 18 V BTM50ZK multitool was launched. It can be used to cut various materials, including oak wood, drywalls, plastics, copper pipes and nonhardened nails, as well as for sanding, grout removal and scraping.
This tool is powered by two 18 V battery variants, with a forward-mounted LED light on the working area.
Oscillations can be custom-set through a dial, mounted on the side of the tool. Speeds range from 6 000 to 20 000 oscillations per minute.
An antirestart function prevents accidental start-up.
A dust extraction vacuum system can also be incorporated into the tool for sanding applications.