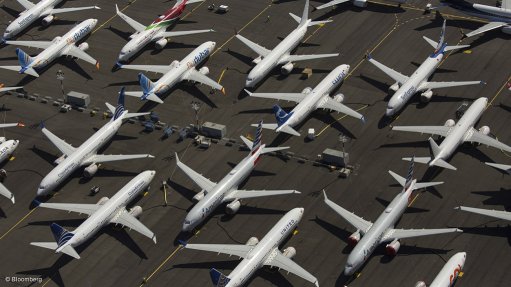 The protracted grounding of Boeing 737 Max aircraft has negatively impacted on Aersosud.
Photo by: Bloomberg
South African private sector aerostructures company Aerosud remains optimistic about its future, despite suffering significant short-term hits from both the grounding of the Boeing 737 MAX airliner early last year and the current Covid-19 pandemic. Aerosud is a supplier of airframe components to both Boeing Commercial Airplanes and, via US group Spirit Aerosystems and French group Safran, to Airbus Commercial Aircraft. It also directly supplies Airbus Defence and Space with components for the A400M military airlift aircraft.
"Although the next two years are expected to be very flat, we are up-beat about the potential of securing more business from supply chains that have lost work, or from geo-political changes," Aerosud MD Johan Steyn tells Engineering News. "Aerosud is working closely with its South African manufacturing supply chain to develop new opportunities for collaboration in the future, and being able to make a better offer to customers in future."
There has been no material change in the production rate of the A400M, although the final assembly of this aircraft, undertaken in Spain, had been disrupted for two months. As a defence programme, it has been prioritised by its customer countries, with no further production delays or disruptions or order cancellations so far.
However, the company and its employees have been subject to real stress. The protracted grounding of the 737 MAX forced the company to lay off 60 people. Other employees are being retrenched as a result of the reduction in the production rates of other airliners, both by Airbus and Boeing, because of Covid-19. (The South African company supplies components for the Airbus A320 family and the A350 XWB family, through Spirit Aerosystems.) As a consequence, last month and this month Aerosud has been working at only 50% capacity.
From January to the end of this month Aerosud will have had to retrench 150 staff. Other employees, mostly in management, are working reduced hours with reduced salaries. "This is not good at all; in fact, it's very painful," he reports. "But, regarding the 737 MAX, Aerosud was able to negotiate a very fair and reasonable cut-over plan with Boeing, including financial measures to support Aerosud and secure the Boeing supply chain on the 737 and 777X."
In response, in addition to retrenchments, the company has been restructuring itself and resizing its capacity, and is giving more emphasis to diversification and especially its digital products and services. "Aerosud started to develop a product lifecycle management-based business platform about two years ago, and that product will now go to market under the trademark MWORX," he cites. "There are applications for this platform in all digital design and project cycles, such as industrial engineering, aerospace, medical, nuclear and so on."
Aerosud has also been in talks with other companies about its Cellular Core Technology (CCT), the intellectual property rights for which it acquired in 2015. CCT permits the production of complex-shaped multicell structural composites using a single curing process. "We are in the process of positioning it for expanded industrial capacity and capability," he says.
Another encouraging development is that the process of developing a national Aerospace and Defence Industry Master Plan had finally gotten under way in late 2019. (This development actually coincided with the start of the Covid-19 crisis.) "This process may just bring the right ingredients to the table for future opportunities for us," observes Steyn.