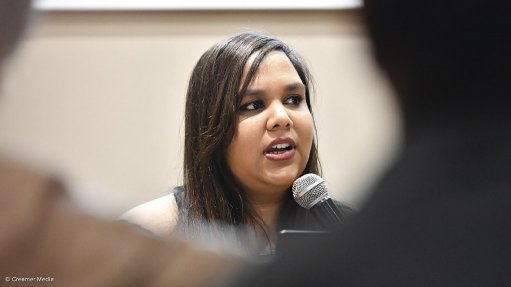 TIPS researcher Bhavna Deonarain
Photo by: Creamer Media's Dylan Slater
Industrialisation leads to socioeconomic growth, often at a cost to the environment in the form of emissions and pollution, and, therefore, the Fourth Industrial Revolution (4IR) presents a promising opportunity for sustainable development.
Speaking at the Trade and Industry Policy Strategies (TIPS) Forum 2019 event, in Midrand, on Friday, TIPS researcher Bhavna Deonarain noted that sustainability and digitisation were changing business and societal models globally.
She mentioned that the development and adoption of electric vehicles (EVs), drones, and digitised and automated technologies had continued to increase, while changes in commuter preferences were increasingly being observed.
Although 4IR-related technologies bring greater efficiencies in cost and time, if not managed correctly, the new wave of digitisation could culminate in dire consequences for employment and the environment in numerous industrial, manufacturing, transport and service sectors globally.
EV STATE
Deonarain said EV adoption rates were challenging conventional internal combustion engine vehicles, with manufacturers globally expanding their ranges to include EV versions of most vehicle models.
Taking it a step further, she noted that Daimler, Tesla, Volvo and Volkswagen had begun testing electric and autonomous trucks, while the first solar-powered ship had made its way out of China's waters last year.
In South Africa, EVs were in their infancy, however, Eskom has started investigating tariffs for off-peak charging of EVs, although it would not provide charging infrastructure. BMW, Nissan, Jaguar and the Industrial Development Corporation had started installing fast-charging systems at some malls, office parks and highways across the country.
DRONING ON
Deonarain pointed out that drone delivery mechanisms were faster and more cost-efficient than traditional delivery modes, with deliveries completed in hours instead of days.
She noted that e-commerce giant Amazon, courier company DHL, Google and United Parcel Service had started doing deliveries with drones in the US and Germany.
Additionally, drone delivery of food and packages is expanding in Shanghai.
Deonarain highlighted that a company called Zipline used drones to transport medical supplies to remote villages in Tanzania and Rwanda. Drones have become the company's first option in emergencies such as blood transfusions, emergency vaccines and the delivery of products that have a short lifespan.
In Australia, drones are used for sea rescue and ocean monitoring for sharks and emergency situations. Generally, drones are globally being deployed for security and surveillance purposes.
In South Africa, the South African Police Service, the City of Cape Town and the South African National Parks use drones in surveillance, tracking and identification of suspects.
The Passenger Rail Agency of South Africa recently signed a memorandum of understanding with the Western Cape Department of Transport and City of Cape Town to enable drone technologies to be used for monitoring railway tracks, thereby improving safety of the system and commuters.
State-owned power utility Eskom and the Council for Scientific and Industrial Research are investigating the use of drones to inspect and monitor power lines.
Deonarain anticipated drone deliveries in South Africa by 2021, owing to the rise of online shopping.
AUTOMATION ALL OVER
Information and communication technology had become interwoven with production technologies, said Deonarain, with autonomous vehicles used in warehouses and automated machinery and equipment in factories.
For example, a delivery company called Ocado, in the UK, uses a fully autonomous robotic system for packaging online grocery orders. Globally, robots have been deployed to deliver food, beverages and packages, she averred.
A fleet of more than 150 robots by technology company Starship is operating in selected cities across Estonia, Germany, the UK and others in the European Union, in partnership with fashion company Hermes, pickup and delivery service Postmates and fast food chain Domino's Pizza.
In the agriculture industry, automated and geographical information systems have been combined to enable cost-effective, efficient and environment-friendly farming.
Deonarain said the industry uses agribots, connected tractors and drone farming. "Farmers can incorporate global positioning system and sensor technology to determine shorter routes, allowing for decreased crop treatment and harvesting time, increased productivity and reduced fuel consumption.
"Digitised and automated systems for crop cultivation and harvesting are displacing conventional labour, and dated transport machinery and equipment."
In South Africa, Deloitte has estimated that 35% of all jobs in South Africa could be displaced as a result of automation and production lines. However, Deonarain said that adopting technologies increases complexities in production in terms of managing technologies, which will require reskilling of the labour force and investigating new manufacturing potential to ensure a just transition.
She continued that mid-skilled production workers may be at greater risk, unless they are reskilled. Highly skilled workers such as commodity traders can be absorbed elsewhere.
Automation appears to be the sector in South Africa that has most adopted automation. Volkswagen's manufacturing plant in Uitenhage uses around 600 robots to assemble around 3 000 units. Deonarain pointed out that although this has replaced some human labour, the robots have enabled 24/7 operation, which resulted in the addition of 300 employees to accommodate longer business hours.
TRANSPORT PATTERNS
Deonarain remarked that passenger mobility patterns across the globe were changing. The mobility distribution model called Mobility as a Service (MaaS) offers transport to users through a single interface or a service provider, shifting away from personally-owned modes of transport.
"MaaS offers a customer-centric, innovative, pay-per-use transport solution that combines different transport modes through a single platform, using cloud computing technology and the Internet of Things."
She questioned how MaaS could transform the transport industry, suggesting that MaaS could bring about autonomous (driverless) vehicles, multimodal transport (transport carried out by two or more operators), fleet and ride sharing, personalised journey planning and crowd logistics, which are platform-based logistics services provided by geographically dispersed transport operators.
MaaS demand stems from changing commuter behaviour in seeking convenience, variety, time and cost savings, as well as a smaller environmental impact.
Deonarain mentioned that further collaboration was required to make MaaS a reality in South Africa, but by 2020 commuters should be able to make use of one card, such as the Gautrain card, across all rail and bus services.