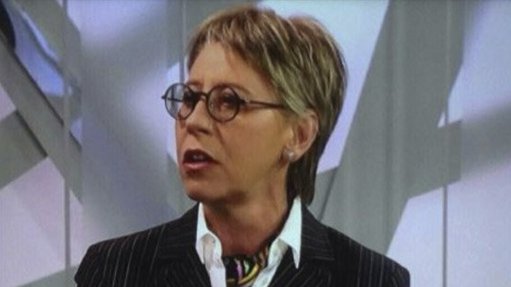 Advocate Sandra Coetzee
The acting head of the Independent Power Producer Office (IPPO), Advocate Sandra Coetzee, says "time is of the essence" for finalising South Africa's gas-to-power (GTP) plans in light of the prospect of possible electricity supply shortages arising from the underperformance of Eskom's coal fleet.
Coetzee, who was appointed in July, says gas will definitely play a role in South Africa's transitioning electricity system, as it offers the flexibility required to complement variable renewable energy plants. In addition, GTP plants can be built relatively quickly and have lower emissions than coal-fired stations.
Speaking at a seminar hosted by Nedbank and EE Publishers, she acknowledged that gaps remained in South Africa's gas policy framework and indicated that Eskom's weak financial position also posed procurement challenges, with the utility remaining the single buyer of power produced by independent power producers (IPPs).
In addition, South Africa did not have sufficient domestic gas resources to supply GTP plants, as well as existing and future industrial users, and had yet to build the infrastructure needed for the import and processing of liquified natural gas (LNG).
However, the imminent promulgation of the updated Integrated Resource Plan (IRP), together with the fact that a ministerial determination was already in place for the procurement of over 3 000 MW of GTP capacity by 2030, meant that South Africa was not entirely constrained by the absence of a coherent framework.
The draft IRP envisages the first 1 000 MW of GTP capacity being introduced into the South African grid by 2024, with a further 2 000 MW to be added by 2027.
Nevertheless, Coetzee said greater alignment across the public and private sectors would be crucial to the success of any procurement programme for LNG infrastructure and GTP IPP plants and committed to facilitating extensive discussions with stakeholders ahead of the release of any bidding documentation.
The IPPO was still considering the approach it would take to procurement and would seek to integrate some of the changes that had taken place in the market since the release, in October 2016, of a preliminary information memorandum, outlining the scope of a LNG Gas-to-Power programme.
Key changes were the inclusion, in the IRP, of battery energy storage as an additional flexibility option and a lowering of the assumed load factor for the GTP plants, from the baseload-type profile envisaged initially to a load factor of between 12% and 50%.
In 2016, a bundled procurement model was proposed for the LNG import infrastructure and the GTP plants, which would play the anchor role for a broader strategy to supply gas to industrial users. With the envisaged lower load factors it is not clear whether the GTP plants would continue to play the envisaged anchor role, however.
Globeleq's John Smelcer, who also spoke at the seminar, cautioned that no economy internationally had been able to successfully attract greenfield LNG investments without the GTP plants playing an anchor role, mainly because the industrial off-takers did not offer the security of demand required to make such capital-intensive investments bankable.
"All of the LNG markets today in all 40 importing countries have anchored their greenfield import projects with power. It is very hard to see LNG imports in South Africa being anchored with some of the other potential utilisers of gas," Smelcer said, adding that a higher load factor might, thus, need to be a consideration.
Meanwhile Andy Calitz, who has confirmed his candidacy for the vacant Eskom CEO position, also stressed the role of GTP in South Africa's future electricity mix.
He argued that the domestic electricity system would need to transition, for economic and environmental reasons, from coal to one comprised mainly of wind, solar and gas generators.
The former Eskom engineer, who for the past 23 years has worked on several energy and LNG projects for Shell across six continents, attributes the absence of LNG imports in South Africa to a failure of central planning and a neglect of the customer.
"Can economic competitiveness and environmental impacts in the South African economy be improved by the establishment of a gas industry? The answer is yes, gas can contribute to South African competitiveness and energy security," Calitz averred.
"Should a deregulated market or continued central planning decide and answer these questions? [I say] let the market decide whether it wants gas and whether it is imported or domestic gas. It shouldn't be a big national debate by the Cabinet . . . let market players develop the options, see what naturally develops and just get out of the way of them doing so," Calitz argued.