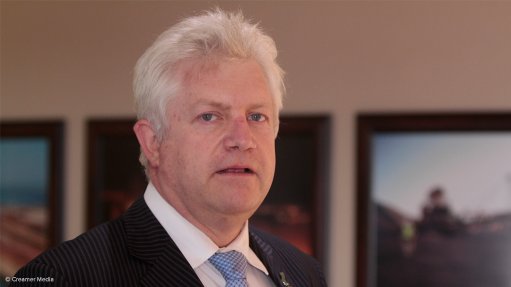 Western Cape Minister of Economic Opportunities Alan Winde
Photo by: Duane Daws
The agriculture sector is fast becoming "serious business" for the Western Cape and South Africa, says Western Cape Minister of Economic Opportunities Alan Winde, who envisages a future in which agricultural produce from the Western Cape plays a major role in feeding the world.
When delivering the province's Department of Agriculture 2015/16 budget speech on Wednesday he advised that the province would allocate R742-million to "Vote 11".
The aim of the funding was to create an enabling environment in which the Western Cape's farming and agriprocessing operations could grow the agricultural economy and create employment in the sector.
"Creating jobs for the people of our rural areas is the only way in which we can sustainably address our biggest challenge – poverty," Winde stated.
The overarching goal was to increase sustainable agricultural production by at least 10% over the next ten years, by employing a set of interventions, the most important of which was to radically increase the pace of transformation taking place in the sector.
"Enhancing diversity in our agricultural sector is the platform upon which we can build a stable, more productive and growing sector," Winde noted.
As a result, the department expected all land reform projects to achieve a 70% success rate over the next five years.
Subsequently, the Farmer Support and Development Programme would receive R256.9-million in 2015/16, among others, to deliver a full suite of post-settlement support services to land reform beneficiaries, equipping them with the skills they needed to run successful operations.
The department also aimed to support 4 600 farmers with advice to take their enterprises to the next level.
"Successful land reform can only happen through collaboration and growing meaningful partnerships will be critical in delivering the targets we have set," Winde said, adding that, to this end, the department would participate in all of the National Department of Rural Development and Land Reform's District Land Committees.
He announced that, as from next month, the department would begin to see clients at its newly established land reform advisory desk the Cape Agency for Sustainable Integrated Development head office, where emerging and existing farmers in the industry would receive advice on how to structure land reform deals.
Winde pointed out that during his first year as provincial Minister of Agriculture, he had visited a number of national government land reform projects and witnessed how many of these operations were "set up for failure".
"We need to turn this around. Government, in collaboration with the private sector, must ensure we give beneficiaries the best chance of success," he said, highlighting funding and the boost it gave young and black farmers to be a part of the sector's growth story.
To this effect, the Western Cape Department of Agriculture would engage with banks this financial year to encourage them to become a "little less risk averse" when it came to granting agricultural loans.
New farmers were often challenged by a lack of business networks and links to domestic and export markets; therefore, it was the goal of the department to improve market access for all Western Cape-based agribusinesses.
EXPORTS
The province currently produced over 50% of South Africa's agricultural exports, which the department intended to strengthen by growing the current R16.3-billion worth of exports.
Meanwhile, to help commercial and smallholder farmers move into the next market category, Agricultural Economic Services was allocated R22.8-million.
"Research has found only a 5% increase in the value of deciduous fruit and table grapes exports will create 4 261 and 2 073 new jobs respectively," Winde emphasised.
The same research revealed that a 5% increase in wine exports would lead to the creation of 986 new jobs, two-thirds of which would be off farm.
"To make this a reality, we need to radically ease market access to both our new and our traditional markets," Winde stated, noting that the national Department of Trade and Industry need to be a key partner if the Western Cape was to achieve its export goals.
COMPETITION
"We are operating in a competitive global environment," he stressed.
In the Brazil, Russia, India, China and South Africa (Brics) group of countries, South Africa faced fierce competition from countries, such as the US and Australia, and Europe.
He explained that China had recently signed agreements to start cutting tariffs on Australian and Chilean wine, noting that South Africa currently paid tariffs of between 14% and 30% when exporting wine to China.
"Simply put, we have to start leveraging our position in the Brics group to put smart agreements in place that provide Western Cape exporters with an edge in the market.
"In addition to better trade agreements, we must also address nontariff barriers. Environment-friendly and socially responsible practices are becoming increasingly important for markets such as the European Union."
Therefore, the department aimed to ensure that 1 200 farmers and farmworkers in the sector received ethical-trade training.
The department would also look at growing the Western Cape's market share in Africa, with African countries already the province's top importers for food and beverages. For example, exports to Angola grew by 30% over the past year.
As the Western Cape was also a major exporter of meat, the Veterinary Services programme would receive R76.2-million to ensure that the province's animal population remained healthy and a quick response in the event of an animal disease outbreak.
In future, the consumption of meat on the continent was set to increase "dramatically", owing to rising gross domestic product, growing middle classes and urbanisation.
In line with the Western Cape's focus on expanding in Africa, the department aimed to host the continent's biggest agricultural congress, where the future of food security and food opportunity on the continent would be discussed.
"Africa has the world's most unfarmed arable land and we need to make sure Africans lead the way forward," noted Winde.
AGRIPROCESSING
Agriprocessing presented a significant opportunity to stimulate further growth and job creation in the Western Cape as it increased its global market share. "As it stands, we have not explored the full potential of adding value to our goods, often exporting the raw product," Winde acknowledged.
The Western Cape's Project Khulisa – aimed at reducing poverty in the province - identified agriprocessing as a high-potential sector that could add up to 100 000 jobs and generate R26-billion for the economy under a high-growth scenario; however, only if it received dedicated attention and support from all sectors.
Agriprocessing held particular potential to increase employment in rural areas, noted Winde, adding that R21-million was allocated to the Western Cape's Rural Development programme in the 2015/16 financial year.
During the period, the Sustainable Resource Management programme would also receive R75.2-million, while the Research and Technology Development Services programme was allocated R108.8-million.
In May, the department would host a Media Wow Day to showcase the "cutting-edge innovation" being produced by public-sector innovators in this province's agriculture department.
Winde further noted that "one of the best investments we can make is in our young people," as the average age of a farmer was now 60 and the agriprocessing sector was facing a skills shortage.
Therefore, R56.9-million was allocated to the Structured Agricultural Education and Training programme in the 2015/16 financial year.
Finally, Winde stressed the need to create an investor-friendly environment if the Western Cape was "to play a role in feeding the world".
He advised that some of the province's agricultural and agriprocessing businesses had started to lose faith in the system and, particularly in government.
"The only way we can create an investor-friendly environment is through consistency, clarity and certainty. Farmers say if you give them the rules, they'll stick to them. At the same time, we need to make the laws work for our economy. We have to bring honour back to agriculture."
"I am asking you to make the Western Cape your Plan A and Plan B," said Winde.
"We are in the midst of a successful harvest season, where it has been reported to me that the quality of our produce is higher than ever before. It has also been a productive harvest, where employers and employees have worked together to get the job done," he enthused.