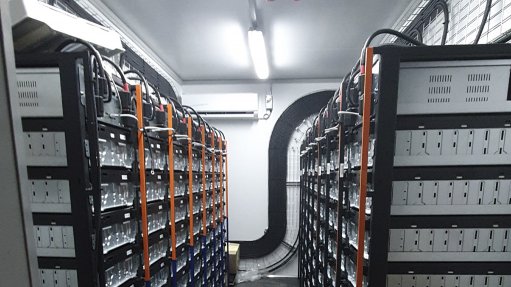 ENERGY STORAGE 250kVA, 1MWh containerised battery system in operation within Sabi Sands South Africa
Energy storage is becoming a critical part of business operations and a vital element of the economy, particularly in the manufacturing sector, says solar energy company Blockpower director Kyle Bohnsack.
He highlights that integrating battery power with a grid-tied system to create a hybrid setup allows for energy storage from solar power during alternative periods, such as peak demand periods, during which the grid experiences the highest demand.
State-owned power utility Eskom's use of time-based billing ensures that peak rates are charged during peak periods, which range from 06:00 to 09:00, and from 18:00 to 21:00. Standard rates are applied during the other hours of the day and off-peak during the night.
Solar produces energy during the standard rate periods, and is, as such, capable of offsetting consumer consumption during these times.
However, if battery storage is introduced, it creates an opportunity to offset the end-user's consumption during peak periods. Batteries can also be recharged during lower consumption periods, for example, between midnight and 03:00, or from an alternative energy source, such as solar, during standard rate periods.
Bohnsack says "targeting the high-peak times of a commercial operation within a 24-hour period of consumption, should . . . augment the reduction of its energy consumption by up to 30%".
This enables commercial businesses to lessen the strain on the grid while saving on costs, he adds.
Hybrid power – combining different power sources to generate power as and when required – has seen an apparent shift in return investments over the past five years. This shift in return investments for hybrid solutions means that payback periods have been significantly reduced, owing to Eskom's time-based tariff structures.
"Technology has enabled clients to reduce their payback faster than initially anticipated while ensuring access to a secure energy supply for their operations and a backup energy source," explains Bohnsack.
Meanwhile, Blockpower operates in the manufacturing, water, mining, agriculture and hospitality industries and can tailor energy solutions to any power consumer's requirements. Its expertise lies in providing fit-for-purpose solutions, says Bohnsack.
He points out that every organisation consumes energy differently and that understanding the manner of consumption and the client's requirements are vital.
Moreover, Blockpower recommends that commercial operations conduct energy assessments to understand when and how they consume energy on a day-to-day basis.
A business should aim to incorporate a hybrid system, with the necessary technology to cost effectively manage and control energy usage, only when the way in which it is using power is understood, emphasises Bohnsack.
Further, Blockpower is developing and has implemented several solutions, ranging from 50 kVA to 5 MVA of hybrid power solutions, countrywide.
"The business has a preference for proven technologies, such as lithium-ion batteries, and strives to use as much local content as possible, in conjunction with international components," emphasises Bohnsack.
He concludes that, with a management and technical team with more than 30 years' worth of experience in the renewable- and solar energy sectors locally and internationally, Blockpower strives to find the right solution for every client.