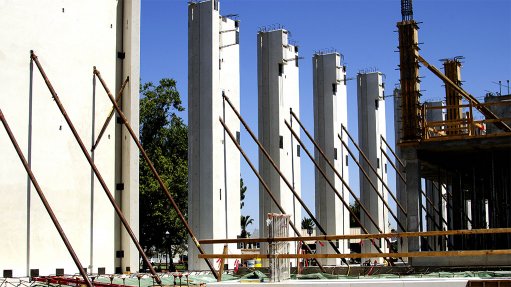 TILTING CONSTRUCTION The construction method increases many of the sustainable benefits of concrete
The tilt-up method of using concrete in the construction of buildings can be one of the most cost-effective building techniques when using concrete, reports Midrand-based cement and concrete advisory organisation The Concrete Institute.
The technique involves casting structural elements, like pillars and walls, on a concrete floor slab, and then lifting them into their final position, increasing many of the sustainable benefits of concrete to achieve a cost-effective and efficient construction method.
Conventional tilt-up panels are structural elements that span from the base to the roof of the structure, functioning as beams and capable of supporting roof and slab loads. They combine the building envelope, structure and final finish in one operation. "Panels are set out in accordance with a predetermined casting layout drawing," says The Concrete Institute engineer and lecturer Gary Theodosiou.
The tilt-up building elements are formed on a concrete floor slab, which could be a "sacrificial slab" purposely laid for this purpose and later discarded.
After the concrete has cured, the elements are tilted into position using a crane and braced until the remaining structural building components, such as the roof, intermediate floors and walls, are secured. "By forming the concrete elements on the ground, as opposed to their final position once completed, tilt-up is a convenient construction method, saving time and formwork," he states.
The elements are then generally set onto a foundation and temporarily secured until the roof is in place.
In the construction of new warehouses, tilt-up concrete elements also offer additional benefits, such as increased security and fire protection, compared with traditional steel sheeting walls, Theodosiou contends.
"Tilt-up construction does not sacrifice quality for cost – instead it provides a finished product superior to most other alternatives, as it offers the strength and durability of reinforced concrete walls, while economically achieving aesthetic effects, neither possible nor cost effective, using other methods of construction," he says.
Although the use of a tilt-up construction method is increasing, Theodosiou says it is not progressing as fast as it should be. He suggests that some contractors are reluctant to use this method, owing to a lack of knowledge about it.
"However, software can be used to assist with the crucial lifting process of the tilt-up pieces. With the software, the builder can see where to anchor the lifting apparatus of a crane to the tilt-up pieces to avoid fractures within the piece.
"The end-result is attractive, aesthetically pleasing buildings," concludes Theodosiou.