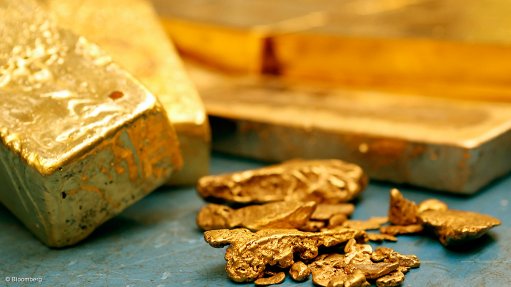 Photo by: Bloomberg
PERTH (miningweekly.com) – Gold miner Saracen Mineral Holdings has agreed to fork out A$20-million to acquire the Thunderbox operations, in Western Australia, from Norilsk Nickel Australia.
The Thunderbox operations include the Thunderbox and Bannockburn gold mines, as well as the Waterloo nickel mine. The project has an estimated gold reserve of 728 000 oz and a resource of some 2.09-million ounces.
The acquisition would also include a 2.5-million-tonne-a-year processing facility and associated infrastructure, which could be brought into production within 18 months.
"The acquisition of the 2.09-million-ounce Thunderbox operation provides Saracen with a 53% increase in mineral resource to six-million ounces of gold, and the 728 000 oz reserve acquired provides an 84% increase in ore reserves to 1.6-million ounces of gold," said Saracen MD Raleigh Finlayson.
He added that the acquisition complemented Saracen's existing producing assets within the Carouse Dam operations, including the Whirling Dervis and Red October mines, and significantly extended the future production potential across Saracen's portfolio of projects.
"Importantly, Saracen can bring highly credentialed technical and operational knowledge, coupled with extensive experience in the Western Australian goldfields, to maximise the potential of the Thunderbox operations assets," Finlayson said.
In return for the Thunderbox operations, Saracen would pay Norilsk A$20-million in cash and A$3-million on either the start of commercial operations or within 24 months following settlement, or when the prevailing gold price has exceeded A$1 550/oz.
Saracen would further pay a 1.5% net smelter royalty on the Thunderbox operations, capped at A$17-million.
Finlayson said that the initial cash payment would be funded from a combination of cash and the drawdown of debt facilities.
Following the settlement, Saracen's first step would be to initiate a definitive feasibility study (DFS) and to start applications for key environmental approvals, while also conducting some further resource extension exploration work to optimise the DFS and mine plan.
These activities would likely be completed by the third quarter of 2015.
Depending on the results of the feasibility studies and the prevailing gold price, Saracen was targeting first production as early as the second quarter of 2016.
Based on the current reserve, Thunderbox could deliver 140 000 oz/y over a mine life of five years. The gold miner has placed an initial redevelopment capital expenditure estimate of between A$45-million and A$55-million on the project.