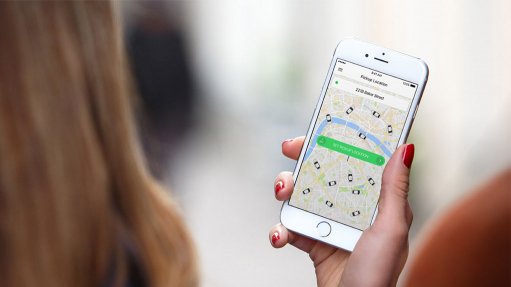 Taxify believes there is room for another electronic ride-hailing service in South Africa.
US-based Uber started operations in South Africa in 2013, with Estonia's Taxify moving into the country in 2016.
"We see ride-hailing as sharing similarities with competing businesses in the telecommunications industry. Generally there is a market leader with 40% to 60% of the market, and there is a challenger with 30% to 40% of the market," explains Taxify South Africa country manager Gareth Taylor.
"Then there is space for a third player with up to 15% of the market and a fourth player with up 5% of the market.
"We welcome the choice that competition offers to consumers."
Taxify operates in Johannesburg, Pretoria, Cape Town, Durban, Port Elizabeth and Polokwane and will launch in East London before the end of the year.
On the broader continent, Taxify also operates in Accra, in Ghana; Mombasa and Nairobi, in Kenya; in Abuja, Ibadan, Lagos and Owerri, in Nigeria; in Dar es Salaam, Dodoma and Mwanza, in Tanzania, and in Kampala, in Uganda.
Taxify earlier this year completed a $175-million investment round, with the intent to expand the group's services worldwide, particularly in Africa.
The company currently operates in around 30 countries.
"We are committed to the South African market, and we intend to grow our footprint to more towns and cities across the country, making it possible for more people to benefit from ride-hailing services, whether they are riders seeking cost-effective convenience, or drivers seeking business opportunities," says Taylor.

He believes that one key reason for Taxify's success has been the fact that its drivers receive 85% of all fares paid by riders, which "is a significantly higher percentage than what drivers using other similar platforms receive".
Taylor does not specify how many Taxify drivers there are in South Africa.
Legal Matters
Government authorities and traditional metered taxis in South Africa have complained of ride-hailing services not operating with the proper permits.
Ride-hailing, however, is not governed by the current National Land Transport Act of 2009, which was promulgated before ride-hailing platforms existed.
Section 66 of that Act describes how metered taxi services must obtain operating licences, which may specify where passengers may be picked up, says Taylor.
He says Taxify recently made a presentation to the National Council of Provinces Select Committee on Economic and Business Development, at its public hearings into the National Land Transport Amendment Bill, which includes sections that address ride-hailing.
"We welcomed the opportunity to participate in the hearings in the interests of supporting an enabling legislative and regulatory environment for land transportation, and developing a fair and competitive transport industry."
However, he warns that certain aspects of the Amendment Bill have the unintended consequence of "treating e-hailing services the same as metered taxis. These two modes of transport are similar only in that they are facilitated by cars. Their business models are fundamentally different".
Taylor says there are key differences between ride-hailing services and meter-taxi drivers.
For one, ride-hailing services are not restricted to an area, route or rank system, enabling consumer choice and making it possible for drivers to earn more money as they can pick up riders close to where they are, rather than departing from, or returning to, a rank with each ride.
Also, vehicles used in ride-hailing do not need to be marked, as the app informs the rider of the driver's vehicle and identity once the ride is accepted.
Ride-hailing services also do not require meters, as the mobile app calculates the cost of the ride before it starts, giving them the choice to accept the proposed cost, or decline the ride.
"Taxify insists that its drivers comply with all regulatory requirements, and believes that operating permit and licence application processes for drivers using ride-hailing services should be streamlined and standardised across all provinces," notes Taylor.
"Ride-hailing operators should not be penalised where there is a backlog of operating licence applications, and licences are not granted due to circumstances beyond their control."
Violence Not the Answer
The violent manner in which some metered taxi operators have approached the threat of competition from ride-hailing services have repeatedly made headlines over the last four years.
"Any change brings uncertainty, but creating violence around the service that consumers prefer, makes metered taxis less appealing to the consumers they are fighting to get," says Taylor.
"Taxify is a driver-focused platform and strives to ensure that drivers using our platform earn more than on any other platform. Hundreds of metered taxi drivers have joined our platform to earn additional income, and there's nothing preventing metered taxi drivers from doing this."
Taxify this month launched a loyalty programme for its South African drivers using its platform enabling them to obtain life, disability and medical insurance, at no cost.

The loyalty programme allocates 25c for every litre of fuel that Taxify drivers purchase at Shell petrol stations to a virtual wallet, which then secures a wide range of insurance benefits.

These benefits include insurance for medical expenses, evacuation, disability, in-hospital cash and accidental death, up to a maximum of R50 000.

The insurance benefits are not limited to when the drivers are on the road or carrying passengers and are available on a 24/7 basis.