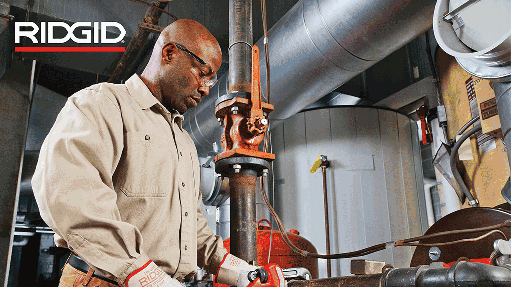 Photo by: Emerson, RIDGID company
RIDGID dates back almost a century to 1923 with the invention of the modern-day pipe wrench. Today RIDGID is acknowledged the world-over as the leading manufacturer of professional tooling for demanding applications. Following on the success of the pipe wrench, all subsequent RIDGID products have been engineered and crafted in the same likeness: championing superior strength and efficient operation.
RIDGID tools are ergonomically designed for ultimate durability. RIDGID tools are industry-leading products that allow hands-on professionals who work in mining, construction manufacturing, utilities, and maintenance, among others, to complete jobs quickly and reliably. Over the past 97 years, RIDGID has demonstrated its calibre by outlasting its competition in extremely harsh conditions. Our customers can rest assured that with RIDGID, they can get the job done quickly and properly the first time.
RIDGID offers a spectrum of tools for a variety of applications, such as Diagnostics, Inspection and Locating; Pressing; Threading and Pipe Fabrication; Drain Cleaning; Wrenches and Tubing; Utility and Electricians Tools; and General Hand Tools and Storage.
Actum Group, through its Dowson & Dobson division, has been a preferred RIDGID distributor in Southern Africa since 1969. We offer a team of technical specialists who understand these products and their applications and can help you invest in the best solution for your operation.
Contact us on 011 608 3001 or visit our website at www.actum.co.za to view our wide range of specialised RIDGID products.