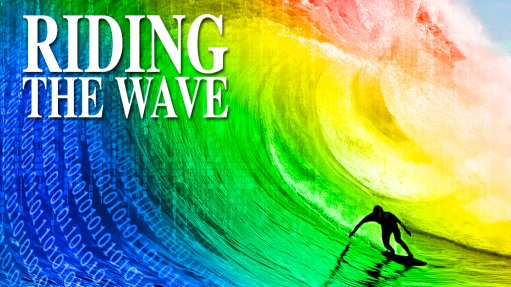 The Fourth Industrial Revolution, or Industry 4.0, is now under way. And there is no way that South African industry can avoid or escape it. Industry 4.0 embraces mobile connectivity, artificial intelligence, Big Data, the Internet of Things (IoT), next-generation robotics, additive manufacturing (three-dimensional printing), blockchain software, wearable technologies and genetic engineering. It was a major theme at the recent Sixth Council for Scientific and Industrial Research (CSIR) Conference, in Pretoria.
Currently, South Africa is underprepared for Industry 4.0. However, it is not badly underprepared. This was reported by AT Kearney associate Mark Saunders. AT Kearney is carrying out studies on behalf of the World Economic Forum on the readiness of countries for future production technologies and processes. Countries have not been ranked in terms of their readiness, but rather assigned to one of four categories or archetypes. These are: Global Leaders, Legacy Champions, Followers and High Potential.
LEADERS AND FOLLOWERS
Global Leaders have a strong current manufacturing base and are well positioned for the future. Legacy Champions have a strong current manufacturing base but are at risk for the future. Followers have a limited current manufacturing base but are underprepared for Industry 4.0 and are at risk for the future. High Potential countries have a limited current manufacturing base, but are positioned well for the future.
"Based on preliminary results, South Africa is a follower," reported Saunders. But the country lies close to the intersection of all four categories, so it could relatively easily advance, or slip back, into one of the three other categories. But it is somewhat underprepared. "South Africa is in a bit of a limbo situation. It isn't in a very clear position."
"Countries . . . should rather focus on existing strengths, not on weaknesses," he affirmed. "It makes more sense to focus on strengths and prepare those strengths for emerging technologies." He pointed out that South Africa had a strong manufacturing sector. Industry represented 13% of the country's gross domestic product. Construc- tion represented 4% and electricity, gas and water another 4%. The country's manufacturing base is established and diversified, with well-developed and efficient supporting infrastructure. It is also close to the rapidly growing markets in other African countries.
Local manufacturing sectors that are currently doing well are radio, television and professional equipment; food and beverages; petroleum, chemical products, rubber and plastic products; motor vehicles and parts; and wood and wood products and paper. The electrical machinery sector is neither growing nor declining. Sectors that are doing badly are basic iron, steel and metal products and machinery; textiles and clothing; and furniture.
However, its weaknesses include rising costs of production, relatively low productivity levels, lack of highly skilled labour and uncertainty about government policy. Moreover, manufacturing is the only sector of the South African economy which has been shedding jobs since 2010 (job losses in the mining sector started much more recently, before which they were still rising).
"Human capital is important," emphasised Saunders. Without adequately prepared human capital, a country will not be able to harness the new production technologies. And if South African manufacturing is not ready for Industry 4.0, the result will only be more job losses, as markets will be lost to foreign competitors using the new technologies.
Trade and Industry Minister Dr Rob Davies highlighted the challenges that Industry 4.0 is posing to the South African economy, and especially industry, in his address. "We are entering an era, and probably are already in it, in which the premium for innovation has become significantly raised," he highlighted. While innovation had always been important, it was now even more important. "We need to prepare ourselves as a country." Industry 4.0 will cause "disruptive change" in manufacturing, not just incremental change.
He pointed out that there were three "domains of innovation". The first is continuous, incremental improvement, which has a significant cumulative effect over time. This is the Kaizen approach. The second domain is the adaptation of technologies, developed abroad, to local conditions. And the third is "greenfield inventions".
"The obvious important issue is ensuring the commercialisation of these [latter two domains]," he asserted. There have been too many cases of South African innovations having to be commercialised overseas, and sometimes having to be reimported into the country.
Industry 4.0 "is just adding to the impera- tive I've just described", he observed. The Department of Trade and Industry (DTI) needed to strengthen its cooperation with the industrial sector and the Department of Science and Technology in order to more efficiently convert a greater proportion of local innovations into commercial products.
The country already has a number of agencies and initiatives acting in this regard. Davies cited four of them.
The National Cleaner Production Centre existed to help local industry achieve greater energy efficiency and decrease its carbon emissions. He argued that such improvements would become increasingly important, including in terms of business competitiveness. "The National Cleaner Production Centre is one example of where we need to accelerate our efforts." When South Africa thinks that trade barriers, imposed on ostensibly environmental grounds, are actually protectionist measures, government will respond. "We will continue to act against [such] unfair barriers to trade," he assured.
The Technology Localisation Implemen- tation Unit supports the localisation of technologies acquired from overseas original-equipment manufacturers by State-owned companies and government departments. "There are still a number of implementation challenges," he acknowledged. "There is a piece of ongoing work . . . whereby we are aiming to improve and enforce localisation across government departments."
The National Industrialisation Support Initiative, jointly developed by the DTI and the CSIR, will provide South African companies with a product life-cycle support platform. The fourth example is the Mining, Manu- facturing and Sustainable Development Hub. These various initiatives, he affirmed, demonstrated "what we can do, what we must do . . . We also have our own technologies, leading to mineral beneficiation".
He pointed out that government departments and agencies could prioritise purchases from local companies, without violating World Trade Organisation rules, because South Africa had not signed the plurilateral Agreement on Government Procurement. The decision not to sign this agreement was consciously made to allow government to give preference to local companies.
Davies also warned that Industry 4.0 would also disrupt and transform the services sector – to give just one example, the rapid expansion of electronic commerce – and even the basic primary sector. Thus, for example, an orange farmer might have to be able to assure export customers that his orchard used only approved pesticides and were free of certain diseases or pests; this would require sophisticated data recording, storage, analysis and tracking systems. A challenge facing the country was the need for properly skilled and qualified workers.
"What we've established, in the DTI . . . [is] a chief directorate looking at future industrialisation and technologies." The directorate was working with specialists in the Organisation for Economic Cooperation and Development to identify what emerging economies like South Africa should do to meet the challenges of the Fourth Industrial Revolution. What was already clear was that the need would be, Davies warned, "to work harder, smarter".
AN AWAKENING FORCE
"Digitalisation changes everything," highlighted Airbus Defence & Space head: Europe, Middle East and Africa Jean Marc Nasr. "Digitalisation is the impact on companies and organisations of the fact that people and things are interconnected anytime, any- where, for any need." He pointed out that a smartphone gave people access to verbal and written communications (in various formats), to data and a huge range of information, to commercial and financial services and to satellite navigation services, as well as acted as a camera and entertainment centre. A hand-held device could thus substitute for cable telephony and telegramme/telex systems, a full set of encyclopaedias, for shops and branch banks and for atlases, if desired.
"A digital company has integrated digital technologies (Big Data, cloud [computing], mobile devices, [and] social networking); [and] has evolved an organisational level to address digitalisation. … Digitalisation is already a reality in the aviation industry . . . [Airbus] uses digital to improve products and customer experience. We use digital to improve internal operations. We use digital to improve our organisation and culture."
For example, the new digital technologies allow Airbus to continuously collect data (on behalf of and in cooperation with its customers) from the aircraft it manufactures, while they are operating. This data is then processed using what the aerospace group calls 'Airbus Smart Analytics'. Data is turned into actionable information allowing "predictive analysis" for the customer, enabling the customer to make accurate decisions and improve maintenance and operational processes. Alternatively, this capability can be supplied to a customer as a complete system in a turnkey solution.
Regarding the impact of Industry 4.0 on employment, Nasr is optimistic. "I am convinced that the creation of jobs will be much greater than the destruction [of jobs]."
Another global giant, US-based General Electric (GE), now describes itself as "a digital industrial company", pointed out GE head: Women in Technology Janeen Uzzell. "We transform industry by connecting people, data and machines." The group, she explained, was now focused on three major innovations: the industrial Internet, advanced manufacturing and the 'global brain'. The industrial Internet embraces machine intelligence, Big Data and advanced analytics; implementing it requires data scientists. Advanced manufacturing is bringing improvements in production and service efficiency and will eliminate repetitive human work and alleviate safety concerns. The 'global brain' means the efficient use of human resources.
Her advice to other enterprises was that they had to identify their "balance of trade" and determine where their growth was going to come from. Once the future growth areas had been identified, then decisions had to be made about the technologies needed to exploit the opportunities these areas presented. An important factor is the policy and regulation framework within which these decisions are made. These decisions will also affect what Uzzell called the "human footprint": the workforce is going to change. The adoption of new technologies will also affect the physical footprint of an enterprise. Corporate social responsibility will remain important. "Innovation can be incredibly productive."
BEWARE THE DARK SIDE
Global professional services group PwC defines Industrial 4.0 thus: "[It] focuses on the end-to-end digitisation [sic] of all physical assets and the integration into digital ecosystems with value chain partners." As a result, an enterprise could be hacked, key and confidential data stolen and, in the era of the IoT, equipment sabotaged. The hackers could be agents of organised crime, of terrorist groups, of rival companies, of States, or just malicious individuals taking pleasure in causing pain. As a result, cybersecurity is essential as both a prerequisite and an enabler for Industry 4.0.
"The IoT is quite broad – actually, it is massive," pointed out Parsec senior product manager Jaco Botha. On the industrial side, it already includes sensors (for example, monitoring production processes), process control systems, building management systems, Internet protocol cameras, and, in the sphere of economically important infrastructure, smart grid systems, smart city systems and traffic lights. "Even if the affected process or organisation is not the intended target, the nature of a [computer] virus or trojan [horse: a programme that appears benign but is actually malicious] is such that its outbreak is generally uncontrolled and various unrelated entities can suffer damage because of it."
The hacking and leaking of customer data would cause reputational damage to a company and could lead to both direct and indirect loss of revenues. And there were lots of as-yet-inadequately-resolved legal and other liability issues, he warned. If a process controller were hacked and the result was the loss of life, who was liable? What if a hacking attack caused such damage that a plant had to be shut down for weeks, even months?
"It is always a good idea to know your security posture," he affirmed. "Do a security audit that includes industrial control systems, partner network access, maintenance network access and wireless links."
For already existing systems, accounts can be protected by unique passwords (with modern password managers, which help in the creation, secure storing and retrieval of complex passwords, there is no longer any excuse for using a device's default password), and/or by multifactor authentication (which is becoming easier and more afford- able). The latest-generation Virtual Private Networks (which create secure connections across less secure public networks) are easy to deploy while providing strong security, including over wireless networks. Artificial intelligence is now being employed to detect threats.
Regarding new systems, he stressed: "We have to design security from the start." Some networks, such as Random Phase Multiple Access (better known as RPMA), already have better security built into them. The security of the devices themselves can also be improved, using trusted processor modules (specialised encryption chips), the complementary and increasingly cheap crypto chips for the IoT, and trusted operating systems.
And a final, but fundamental, point: does your equipment need to be connected to the Internet at all? "Isolate your industrial control system from the Internet – I don't see this a lot," emphasises Botha. "Use an air gap (physical separation from the Internet) if possible. Use multiple firewalls if that is not possible. Use multifactor authentication if possible. Don't be a victim. Buy the best security tools you can afford. Use the tools you have. Be prepared for a disaster."
• Saunders, Nasr, Uzzell and Botha all made presentations at the 6th CSIR Conference, while Davies delivered the keynote address.