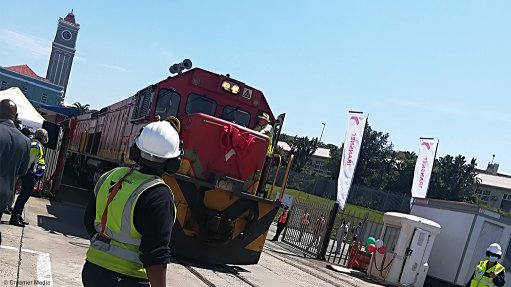 TFR has reopened the Cookhouse-Blaney branch line in the Eastern Cape
Photo by: Creamer Media's Tasneem Bulbulia
South African rail, port and pipeline company Transnet's Freight Rail subsidiary, TFR, on October 7 officially reopened the Cookhouse-Blaney branch line, in the Eastern Cape.
This follows the completion of a R26-million investment in the reinstatement and rehabilitation of the 200 km branch line. Upgrades on the line were completed in March and test runs to improve speed and efficiency in June.
The line connects Gqerbha to East London via Cookhouse – thereby reducing the time it takes by train from East London to Gqeberha by almost half.
TFR says the investment follows renewed interest from the business community to transport beverages and other fast-moving consumer goods products, cement and containers with auto parts between Gqeberha and East London.
TFR expects to transport 30 000 t/y of goods on the branch line, which it says will provide an important in-bound rail transit between the East London Industrial Development Zone (IDZ) and the Coega IDZ; as well as serve as a backup for the Gqeberha line, should there be any incidents between Cookhouse and De Aar.
The line is expected to improve trade routes in the province and enable the transshipment of containers from Gqeberha to East London. This is aimed at reducing the cost of doing business.
Other benefits stemming from the project include migrating more freight from road to rail, thereby lowering the impact on the province's road infrastructure and maintenance.
Moreover, the branch line will support and enable the growth and development of the Eastern Cape manufacturing sector and the province's export footprint in terms of agricultural and mining goods.
It is also expected to create jobs, both direct and indirect.
Speaking during the launch in the Eastern Cape, TFR CE Sizakele Mzimela highlighted this as an important milestone in Transnet's vision to migrate more freight from road to rail.
Moreover, she mentioned that TFR would seek a private operator to operate the branch line, with a request for proposals to be published in November.
A private sector operator is expected to be appointed by June 2022.