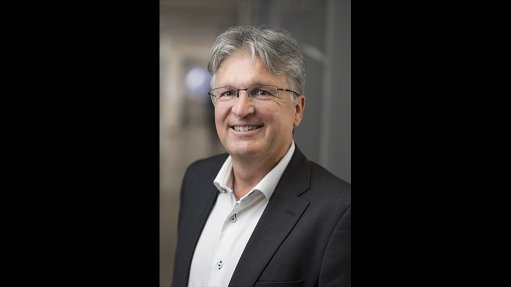 Stefan Fageräng
With sustainability at the core of its business, processing and packaging solutions company Tetra Pak says it is implementing a number of technological innovations and solutions that engender the lowest carbon footprint and highest efficiency.
Tetra Pak Southern African MD Stefan Fageräng, speaking at a roundtable on Thursday, indicated that the majority of food operations in the country were run to the point of breakdown, meaning that Tetra Pak engineers were only called in for services when something broke down.
This is inefficient and leads to production, time and cost losses through downtime of operations, as well as a higher level of waste produced.
Therefore, the company is advocating for advanced technology to be implemented.
Fageräng indicated that while the food industry was a little late to the Industry 4.0 revolution, food legislation required changes to be made, because the industry was high risk and required careful consideration.
"I believe that over the next few years, the technology that is available to us now can be applied to the industry to help us move forward," he said.
Tetra Pak was connecting all equipment at clients' food operations to a 24/7 centre, where it could monitor these and inform customers pre-emptively when a breakdown would occur, thereby engendering smoother operations in the country.
With technological advancements in equipment in the industry, came more complicated systems and a requirement for a high level of expertise to understand these and attend to problems, noted Fageräng.
With experts scattered globally, it is inefficient to fly them in to a food operation each time a machine needs maintenance or a problem arises – with all the challenges, costs and environmental repercussions of travelling, obtaining visas and travel time, besides others.
Therefore, to circumvent this, Tetra Pak partnered with Microsoft at a global level to use virtual reality headsets – HoloLens headsets. With these, the engineer on site can contact any expert globally, 24/7, and this person will in principle be 'on site' with the engineer.
The engineer communicates with the expert, who can share his/her view through the glasses, and make suggestions through speech, text, drawing, or document sharing using augmented reality.
Through this, travel costs are reduced, downtime is reduced, operational costs are reduced, and customer satisfaction is induced.
Moreover, this technology enables upskilling of engineers, as they gain first-hand experience by solving the problem, with guided assistance from an expert.
Tetra Pak employees worldwide all share English as a common business language, therefore, there is no language barrier when contacting a global expert, Fageräng indicated.
Currently, this technology is in the first phase, which entails it being rolled out to Tetra's Pak engineers globally for implementation internally. There are ten headsets in the country presently.
Once the engineers have used and tested these, Tetra Pak will begin phase two of rolling it out to its customers, who can then use it to contact Tetra Pak's engineers when necessary, and vice versa.
Each HoloLens costs $10 000. Once it is ready for customer rollout, it will be offered as part of the company's service offering packaging, indicated Fageräng.
"This is a game changer in the food industry," enthused Fageräng.
ENGENDERING SUSTAINABILITY
Fageräng highlighted that Tetra Pak has been pursuing sustainability for many years, and the fact that it is becoming more prominent worldwide is welcomed.
In terms of sustainable packaging, Tetra Pak, in partnership with Woodlands Dairy, one of the largest manufacturers of ultraheat-treatment milk in South Africa, launched the first Tetra Brik Aseptic 1 000 ml Slim HeliCap23 biobased package, made with in excess of 80% renewable materials.
Fageräng explained that the cap of the package is made from the waste of processing sugarcane into sugar and the paperboard base material from wood. While there is aluminium inside to protect the products, Tetra Pak is targeting replacing this with plastic to enhance the package's sustainability.
The package is also 100% recyclable.
It also contains a QR code that provides a story of the entire life cycle – of the package, the on-farm production, and the retailer.
In its commitment to a circular economy, Tetra Pak believes first in producing packages from biobased materials, as with the example outlined above.
After this, the package is designed to be recyclable. Tetra Pak works with recyclers to recycle low density polyethylene and aluminium recovered from its milk and juice liquid cartons to make pallets. This offers a closed loop, environmentally sustainable solution for packaging waste.
Fageräng noted that one issue in South Africa was collecting these materials for recycling. The company has partnered with two paper mills that have equipment and the capacity for its packages to be recycled. It is working on executing a deal with recycling companies to encourage its packages to be returned.
Fageräng noted that the prices for the used packs should increase to encourage the interest of informal recyclable material collectors.
THE LAST STRAW
Tetra Pak is also investing €100-million a year for the next five years, making alternatives to on-pack plastic straws. The company is exploring several options, such as paper straws, tethered caps, and other drink systems. New closures are a direct result of the focus on marine litter.
Tetra Pak customers have started field testing paper straws for beverage products in Europe. Tetra Pak is the first carton packaging company to provide such straws for beverage cartons in the region.
The company will also publish and share its innovations on paper straw developments to support industrial collaboration on the alternatives to single use plastic straws for beverage cartons.
Made from Forest Stewardship Council-certified paper and recyclable with the rest of the package, the new paper straw will be available initially for two small size carton packages commonly used for dairy and beverage products for children: Tetra Brik Aseptic 200 Base and Tetra Brik Aseptic 200 Base Crystal.
While this is being implemented, in South Africa, Tetra Pak has launched a measure for straws to be recycled. On top of the package of some of its juice boxes, around the hole for the plastic straw, text encourages users to push the straw into the carton once they have finished the beverage. This will allow Tetra Pak to recover the straw with the package, and to recycle both.