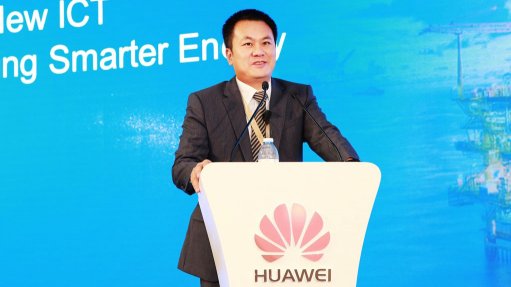 JERRY JI Green sustainable development can enrich lives in the era of energy intelligence
Telecommunications provider Huawei has signed a platinum sponsorship with African Utility Week (AUW), which is the leading conference and trade exhibition for African power, energy and water professionals, taking place in Cape Town from May 16 to 18 at the Cape Town International Convention Centre.
Huawei will also be the lead sponsor for the AUW Industry Awards and will host its fifth Huawei Power Summit at the AUW on May 17, demonstrating industry-leading solutions. This year's theme for the showcase is 'Leading new information and communication technology (ICT), the road to smart grids'.
Huawei Enterprise Business Group energy industry president Jerry Ji says the company hopes to better understand the needs of its customers and integrate Huawei's latest solutions and practices into smart grids.
"This will help African power companies achieve safe, efficient operations and green sustainable development and, as a result, enrich lives in the era of energy intelligence," notes Ji.
AUW event director Evan Schiff mentions that they are honoured to have Huawei as a long-term partner with not only AUW, but also the regional power shows on the continent.
"We are thrilled that they have chosen to expand their investment in the show and we believe this is testament to the value we offer our esteemed partners. We gather the best in the industry to discuss challenges, solutions and successes and, as a market leader, Huawei should be part of that conversation," he adds.
Shared Expertise
The seventeenth yearly AUW will gather over 7 000 decision-makers from more than 80 countries to source the latest solutions and meet over 300 suppliers. Along with side events and networking functions, the event also boasts a five-track conference with over 300 expert speakers.
The conference programme will address the latest challenges, developments and opportunities in the power and water sectors: ranging from generation to transmission and distribution, metering, technology and water. These include two exclusive plenary keynote sessions featuring sought-after international speakers.
The AUW expo offers an extensive technical programme session that is continued professional development-accredited, free to attend and presented in defined spaces on the exhibition floor.
It discusses practical, day-to-day technical topics, best practices and product solutions that businesses, large power users and utilities can implement in their daily operations.
The fourth edition of the AUW Power Industry Awards brings together 800 of Africa's most renowned power and water industry professionals. The awards will recognise, reward and celebrate the successes of Africa's power and water sectors during 2016/17.
Further, colocated event Energy Revolution Africa (ERA) will, for the first time this year, provide a unique forum for solution providers to meet with the new energy purchasers, such as metropolitans and municipalities, independent power producers, rural electrification project developers and large power users including mines, commercial property developers and industrial manufacturers.
The latest innovations and projects in the sectors of renewables, future technology, energy efficiency, microgrid solutions and energy storage will be showcased at the awards to improve green innovations and disruptive technologies and to encourage the use of microgrid solutions.
AUW and ERA are organised by Cape Town-based trade exhibition and conference organiser Spintelligent. Other leading events by Spintelligent include Future Energy East Africa, Future Energy Uganda and Future Energy Central Africa.
Meanwhile,

Huawei Enterprise Business Group president Yan Lida says the company is positioned to propel the development of a digital and intelligent society, being an enabler and best partner of digital transformation for industries.
Last year, Huawei harnessed opportunities to drive industry digital transformation through advanced ICT systems to achieve rapid growth in industries, such as government, energy, finance, transportation and manufacturing.
"Our sales revenue reached 40.7-billion Chinese yuan, with an increase of 47.3% year-on-year," asserts Lida.
Huawei uses a platform and ecosystem strategy to build open, resilient, secure and flexible ICT infrastructure platforms by continuously investing in new technologies, such as cloud computing, the Internet of Things, big data, mobile broadband and artificial intelligence.
The company can then build a new ecosystem that features collaboration and mutual benefits, and work with partners to help customers achieve successful digital transformation.
Huawei has increasingly gained recognition from customers and partners, with 172 enterprises of the Fortune 500 companies – which is a yearly list compiled by Fortune magazine to rank the largest companies by total revenue for their respective fiscal years – and 43 enterprises of Fortune 100 companies choosing Huawei as digital transformation partner of choice.