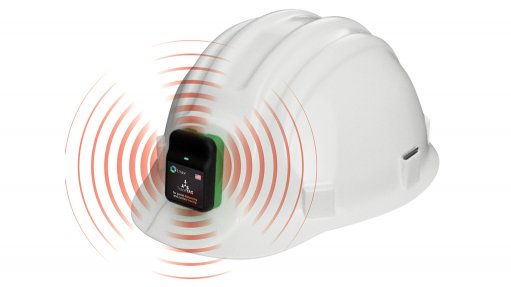 A Proximity Trace device attached to a hard hat
In response to the need for greater worker protection during the Covid-19 pandemic, a new Internet of Things- (IoT-) based solution to help keep workers safe and to boost efforts to curb the spread of the disease, has recently been launched.
The wearable device provides alerts when workers are too close in proximity, based on recommended physical distancing guidelines. In the event of a confirmed case of Covid-19, it also enables companies to trace data captured passively by the worker's device to identify potentially-exposed contacts.
The Proximity Trace device is affixed to a hard hat or worn on the body with a lanyard and emits a progressively louder alarm, alerting workers when they are too close to each other. This aims to allow workers to focus on their work, rather than worrying about their proximity to co-workers and potential exposure to the virus. In addition, the alarm can be used as a tool to help change behaviours by reminding workers to practice safe physical distancing.
In the event of a confirmed case of Covid-19 at a workplace, an employer is able to use the device to conduct contact tracing using historical data captured by the affected worker's device. More reliable information-gathering aims to allow companies to decide who needs to be in mandatory or precautionary quarantine, according to the Centres for Disease Control guidelines, and whether the site can continue to operate safely or if a complete shutdown is required.
The device was developed by Triax Technologies and the company explains that it drew on its experience in IoT technology and workforce safety monitoring to address companies' urgent need for workers to maintain appropriate distances, to perform historical contact tracing and to assist companies to get workers back to work safely, as they implement new safety protocols.
The device is particularly suited for use at oil and gas facilities, utilities, construction, manufacturing and other industrial environments
The Proximity Trace device does not link to Triax's mesh network, but communicates separately to a cloud dashboard specifically designed for contact tracing. The product is currently undergoing field testing and key feedback from early customers will be incorporated into production for commercial availability, explains the company.