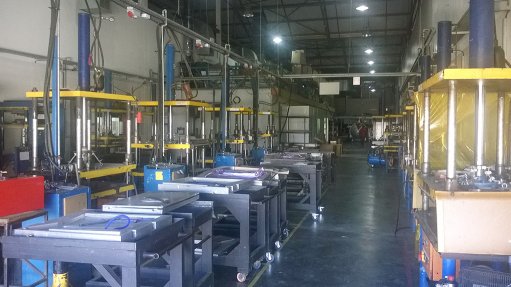 HIGH VOLUME AAT Composites uses press claves and autoclaves to manufacture sophisticated composite parts, with a moulding capacity of more than 10 000 items a month
Western Cape-based aircraft and automotive composites products manufacturer AAT Composites has invested in new machining and manufacturing technology, valued at about R20-million, to increase its competitiveness in the global aerospace industry.
AAT Composites' key capabilities include the high-volume manufacture of sophisticated composite parts. It has a moulding capacity of more than 10 000 items a month in epoxy and phenolic composites prepreg. Prepreg is the reinforcement of a fibrous material, which has been pre-impregnated with a resin system.
The investment includes acquiring a five-axis computer numerically controlled (CNC) machine from machining centres manufacturer Belotti, in Italy, valued at about R15-million, and a large thermopress from hydraulic components supplier Hytec, in Cape Town, valued at R5-million, says AAT Composites MD Dr Holger Friehmelt.
The Hytec thermal press was commissioned in April, while the Belotti five-axis CNC machine, the third to be acquired by AAT Composites, was commissioned at the end of 2014.
"The investment is an enhancement of our manufacturing capabilities. Instead of manufacturing parts only in the company's five large autoclaves or in the more than 20 press claves, we can also manufacture them in a medium-sized and a significantly large thermal press," Friehmelt tells Engineering News.
A key advantage of the large thermal press is that it can manufacture composite parts faster than parts being manufactured in an autoclave or a press clave. The manufacturing of parts, such as lids, seat bottom pans, small covers, aircraft backrests, little doors and access doors, can be completed in a few minutes instead of in several hours, he notes.
"Additionally, the CNC machine can machine composite parts with significant accuracy and substantial quality," Friehmelt adds, pointing out that more customers are requiring these two features of machined components.
Efficiency Improvement
Friehmelt further highlights AAT Composites' increased focus on efficiency improvement and quality investment. "Quality improvement is executed through continuous staff training and keeping staff informed of new quality standards, criteria, certification processes and project management."
Meanwhile, efficiency improvement is pursued through the Lean Principles, a five-step process on lean-technique thought processes, derived from Japanese automotive and manufacturing industries. The principles focus, for example, is on enhancing customer value through optimising value streams and assets, as well as on eliminating waste along these value streams, notes Friehmelt.
"In applying these Lean Principles, AAT Composites' efficiency has been improved by up to 30%," he adds.
Friehmelt further highlights the company's success in manufacturing components for aircraft interiors, particularly aircraft seats. AAT Composites is also manufacturing ten times more components for aircraft lavatories this year, compared with the manufacturing output of last year.
He emphasises that, while the oil price is currently fairly low, weight and weight savings remain crucial design factors in aviation.
Glass- and carbon-fibre composites, which AAT Composites uses, besides other composites, makes the product significantly lightweight and, therefore, substantially attractive, as using them enables aircraft to burn less fuel, says Friehmelt.
These composites are 30% to 50% more light- weight than conventional designs, such as alumi-nium. Other advantages include increased strength, which allows for the material to be used in the manufacture of thinner structures.