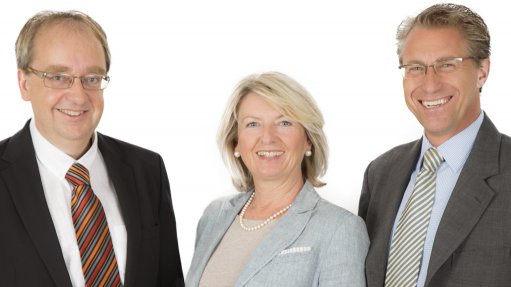 EMI PARTNERS The EMI partners Bert Evers (left), Sabine Grebien (middle) and Bruno Geiger (left) envision the conference as an exciting platform to unlock mindsets about skills development
Best practice cases for skills development and implementation in Switzerland will be the focus for skills development company Expect More International (EMI) at the first Switzerland and South Africa Sustainable Skills Development Conference.
EMI partner Bert Evers notes that the 2017 conference is set to highlight the skills that have evolved over the long period that Swiss companies, institutions and entrepreneurs have been involved in international cooperation, trade and partnerships. This can be put to use in South Africa.
"This conference is an exciting platform to open up mindsets, have discussions, learn and share . . . different ideas about skills development . . . the steps involved in acquiring those, and the way of learning from one another," he says.
The Switzerland and South Africa Sustainable Skills Development Conference 2017 is organised by Johannesburg-based events management company Asakhe Events and will run from February 22 to 24 at Emperors Palace, in Kempton Park, Gauteng.
Evers points to the skills development system in Switzerland as one of the best in the world – detailed in a 2016 book written by EMI partner Bruno Geiger, titled Vocational and Professional Education and Training in Switzerland – Success factors and challenges for sustainable implementation abroad, which he will expound on as a keynote speaker during the conference.
"The conference will see the debut of the Swiss perspective of the dual-track vocational education and training system by participating companies EMI, project development and strategic consulting company Geiger Evolution, leadership development and entrepreneurial best-practice consulting company Grebien Performance, and operational excellence and change management company Evers Xcellence," Evers explains.
With the close ties of the dual-track vocational education and training system to the job market, Switzerland Federal Councillor Minister of Economics, Education and Research Johann Schneider-Ammann says the system focuses on those fields where there is a demand for skilled employees. "Young people are integrated into a professional environment early on in their careers, and they can choose from a variety of appealing professions and career opportunities."
Moreover, Schneider-Ammann outlines that the economy and society benefit from the permeability of a dual-track education system providing skilled employees and managers that leads to low youth unemployment and social stability.
Further, best practice cases for transfer projects in the US, Brazil, Indonesia, Myanmar, Singapore, Sri Lanka, Nepal and Kosovo will be showcased at the conference.
Evers indicates that workshops will develop measures, plans and real actions to implement a sustainable skills development system in South Africa. A World Café, involving an exchange and learning session where participants will discuss recommendations emerging from the conference and identify key stakeholders, will conclude the event.
Swiss representatives are available throughout the conference to advise delegates on future developments, cooperation and projects on various levels.