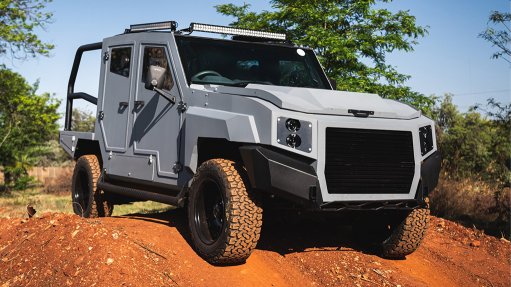 Starting from a cool R1.6-million (excluding VAT), it is now possible to drive around in your own armoured Land Cruiser.
Specialist manufacturer of armoured products, SVI Engineering, says its new Max 3 recognises the need for a cost-effective solution to protect vehicle occupants from both ballistic and general riot threats.
As a civilian version, the vehicle can be used in mine security, riot control, civil security, anti-poaching and convoy protection.
In its military configuration, the vehicle is designed to be air transportable in a C130 aircraft, and is fitted with weapon mounts for .50 calibre pintle mountings, remote weapon systems and the Scorpion 60 mm and 81 mm mortar systems.
The vehicle can also be fitted with customer-furnished equipment such as communication systems.
The Max 3's armoured steel shell is designed and manufactured in-house by SVI.
The conversion process entails removing the soft-skin body of the Toyota Land Cruiser 79 and replacing it with a new all-steel body manufactured from armour plate.
The armoured construction of the vehicle provides a minimum protection against EN1063 BR6 (assault rifles), with additional protection against anti-personnel mines.
The vehicle has been designed from the start to be upgradeable to BR7 protection.
The vehicle is available as a single cab, double cab or armoured personnel carrier for up to eight people.
Although mostly standard, the drivetrain is upgraded with the fitment of rims and tyres with a higher load rating, upgraded suspension and fitment of an additional rear anti-roll bar.
SVI says the modular design of the vehicle allows for short delivery times of three months for batches of up to 20 units, and the vehicle is available in either left- or right-hand drive.
The company adds that servicing the Max 3 is simple because of its standard Toyota powertrain and drivetrain. Spare parts and service items are available at any Toyota dealership worldwide.
A service interval of 5 000 km is recommended.