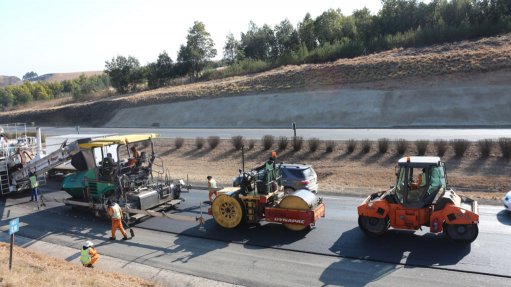 REQUEST INCREASE The use of steel slag as an asphalt aggregate, modified bitumen binders and warm-mix asphalt technologies are generating additional interest from industry
Industry's drive towards sustainability and innovation is the impetus behind the use of recycled asphalt materials, and implementing new and alternative initiatives in asphalt technologies and applications in the road construction and rehabilitation sector, says multidisciplinary engineering consultancy WSP Parsons Brinckerhoff.
"Key technologies being explored include, but are not limited to, using steel slag as an asphalt aggregate, modified bitumen binders and warm-mix asphalt technologies," highlights WSP Parsons Brinckerhoff divisional director for development, transportation and infrastructure in Africa Michael Bouwmeester.
He suggests that these technologies, which have attracted more focus from clients requesting these innovations, are beneficial in terms of cost and from an environmental perspective.
Bouwmeester adds that there is significant value to be found in the materials from existing roads, such as recycled asphalt pavement (RAP) that is used in other road projects. He emphasises the importance of extracting as much value from these materials as possible, particularly for road rehabilitation and resurfacing projects.
While there are several international asphalt technology trends filtering through to the local asphalt and road construction industries, Bouwmeester further notes that, in many respects, local industry can develop asphalt products and methods and is, therefore, "not behind the global curve".
"Local industry is keen to be involved in the country's infrastructure development and in initiatives such as the National Development Plan, which include upgrading and maintaining infrastructure," says Bouwmeester.
WSP Parsons Brinckerhoff, therefore, also aims to provide innovative asphalt application solutions, as well as alternative possibilities for design and engineering road construction projects.
Subsequently, the company will attend the 2015 Conference on Asphalt Pavements for Southern Africa to gain insight into current innovations and recent developments in the industry. Capsa will run from August 16 to 19 at Sun City, in the North West.
Industry Influence
WSP Parsons Brinckerhoff is involved in several road construction and rehabilitation projects, including the rehabilitation of the N14 between Krugersdorp and Pretoria, in Gauteng, which is in its first phase. The construction contract started in May and the company will supervise construction for the following 16 months.
"Owing to high traffic volumes, significant traffic loading and the N14 being an alternative to e-toll routes, we are using modified binders for the bitumen and asphalt aggregate mixes to ensure an extended asphalt life," says Bouwmeester.
He adds that the modified binders will also assist in ensuring that the road rehabilitation design meets the requirements of the Gauteng provincial government, as well as those of road users.
Recycled asphalt pavement will also be used on the project, with 20% RAP designated to supplement the new asphalt mix for the shoulder and fast lane.
Meanwhile, the company remains involved in several other road construction and rehabilitation projects, including the N3 Toll Concession route from Gauteng to KwaZulu-Natal. Alternative asphalt aggregates applied in the projects, including the road between Mooirivier and Estcourt, in KwaZulu-Natal, comprise steel slag.
"Steel slag, a by-product in the steelmaking process, is often considered a 'waste product', but it can be used as a particularly effective, environment-friendly material in the right application," he says.