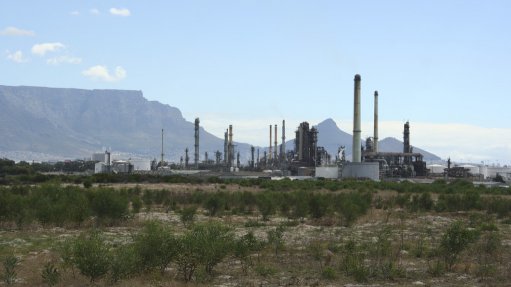 CHEVRON OIL REFINERY The refinery produces petrol, diesel, jet fuel, liquefied petroleum gas and other specialty products for South Africa
Oil refining company Chevron Corporation's local subsidiary, Chevron South Africa (SA) – which markets its fuel under the Caltex brand – last month announced a new enterprise and supplier development (E&SD) programme aimed at improving access to its value chain for black-owned businesses.
The initiative is open to 51% black-owned businesses that have the capacity to continue and sustain growth by adding value to Chevron's value chain.
A key feature of the programme involves proactively enabling entry into the petrochemicals business by providing access to interest-free, unsecured financing. The funding can be used as working capital and for expansion – as part of an ongoing commercial relationship with Chevron. Mentorship is offered to ensure the sustainability and growth of the businesses.
Chevron SA chairperson Shashi Rabbipal comments that the programme affirms the company's commitment to socioeconomic transformation in the petroleum sector. "We have learned through decades of experience that our business success is integrally linked to society's progress and the enduring partnerships that we develop."
The funding and mentorship are considered key to the removal of barriers to entry. Rabbipal adds that this programme is meant to demonstrate the company's intention to lead change in the petroleum sector, "not as a short-term project, but as a continued, deeply rooted process".
Several businesses have successfully applied for funding in order to further their relationship with Chevron SA.
With the aid of funding, business advice and mentoring through the programme, entrepreneur Dr Patricia Khanyile was able to re-enter the fuel industry and buy an existing Caltex service station in Gauteng and convert the current forecourt convenience store into a FreshStop.
"The E&SD funding provides a business opportunity for people like me – people who have the necessary business acumen, but lack financial resources,"Khanyile enthuses.
She adds that she is also investigating the possibility of converting the current unused workshop into a profit-generating venture. "There is a high demand for takeaway food in the area and I believe a quick service restaurant will complement the FreshStop. I hope to double the number of employees once this is done and acquire another Caltex service station in the future."
Khanyile states that the E&SD programme funding provides potential entrepreneurs with an opportunity to meaningfully participate in the economy. She is also planning to partner with other women that were previously disadvantaged and invest in other business opportunities within Chevron SA's network.
She advises that entrepreneurs that are looking to enter the petroleum sector take advantage of these opportunities, be willing to work hard and learn from the best in the industry and be open to sharing information and experience with other aspiring entrepreneurs. "Chevron South Africa shows that it is an ethical company that has a genuine interest in the economic empowerment of previously disadvantaged people in South Africa and I am looking forward to a profitable partnership with them," she adds.
Meanwhile, funding for new dedicated operational equipment for cleaning business Galion Laundry has resulted in an increase in employment in the local community in Cape Town, while providing Chevron SA with higher- quality, timely cleaning services from a single supplier.
Galion owner Brian Miller says that his 100% black-owned business was able to secure new equipment and a delivery vehicle, in addition to securing working capital to operate the equipment before the income was generated. "Working capital is vital for the business as we need to begin operating in order to generate revenue. So many small and medium-sized businesses struggle to work for large corporations because of this cash flow limitation, but, in the case of Chevron's E&SD programme, we received a kick-start to our operations."
Rabbipal states that the programme will create a long-term competitive advantage for Chevron by growing its base of capable and reliable partners. He adds that true transformation goes beyond the regulatory regime, and that entrepreneurship is key to addressing change in the country. "Chevron South Africa's current transformational achievements would not have been possible without the existing strong partnerships that we have with our suppliers and retailers."
Chevron SA operates a crude oil refinery in Cape Town with a production capacity of 100 000 bbl/d. The refinery produces petrol, diesel, jet fuel, liquefied petroleum gas, bitumen gas and other speciality products for South Africa and for export to other African countries. The lubricants manufacturing plant in Durban, together with its premium base oil hub, boasts high-quality manufacturing, storage infrastructure and capability, therefore making it possible for the plant to be a key contributor to growth in South Africa.
Chevron SA is a major contributor to the country's economic growth and has implemented wide-reaching social investment programmes in health, education and economic development.