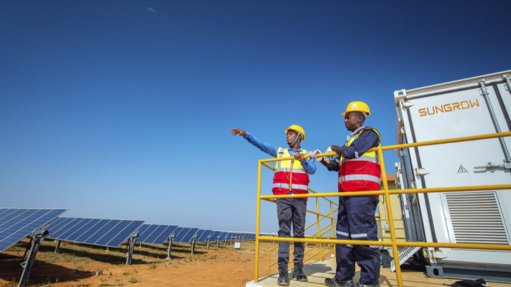 Sungrow, the global leading inverter solution supplier for renewables, thus far, supplied cumulatively 700 MW of installations in the Southern Africa region, occupying over 40% market share, and owns 100% bankability by South Africa Bank. This industry leader also dominates the global PV market with over 30% share as of January 2022. Bearing the vision of "Clean power for all", Sungrow is committed to driving the sustainable and low-carbon development goal for the entire Southern Africa region with its reliable solutions and a localized service team.
Sungrow places Southern Africa region as a strategically significant market with substantial potential. It established its Southern Africa branch in 2017 and began to provide high-quality and innovative PV and energy storage system (ESS) solutions for utility-scale, commercial and industrial and residential customers. Now, Sungrow offers a range of cost effective and smart management solutions for the Southern Africa market, including the latest utility-scale system solutions: SG350HX and 1+X modular inverter, and the ESS solutions.
Over the past five years, Sungrow's industry-leading solutions have supplied several flagship projects' commission and ensure reliable operations in even the harshest conditions. Its successful solar projects include but not limit to: Africa's biggest rooftop project, the 75 MW "Orange" project, the 10 MW PAN-Evander mine project in South Africa, the 40 MW Malindi Project in Kenya, the Juba 20 MW + 10 MW/35 MWh in South Sudan. All work safe and sound till today.
Sungrow also has a dedicated local service team of experienced service professionals with a 48-hour response time. Moreover, it set up a comprehensive service centre with functioning full testing, repairing, spare parts replacement and warehousing. The mature service network enables a lifecycle maintenance for solar plants. To empower our customers, Sungrow also organises onsite and online technical training to improve technical knowledge and skill sets.
"At Sungrow, we believe the Southern Africa region is a strategically important market and local governments also have clear and ambitious expansion targets for renewable energy. Sungrow is strengthening its local presence through building partnerships with engineering, procurement and construction consultants, reliable distributors and financing banks, through which we will honor our commitment to this region's low-carbon and sustainable development," concludes Sungrow director of Southern Africa region Phyllis Yang.
About Sungrow
Sungrow Power Supply Co., Ltd. ("Sungrow") is the world's most bankable inverter brand with over 224 GW installed worldwide as of December 2021. Founded in 1997 by University Professor Cao Renxian, Sungrow is a leader in the research and development of solar inverters with the largest dedicated R&D team in the industry and a broad product portfolio offering PV inverter solutions and energy storage systems for utility-scale, commercial & industrial, and residential applications, as well as internationally recognized floating PV plant solutions, NEV driving solutions and EV charging station solutions. With a strong 25-year track record in the PV space, Sungrow products power installations in over 150 countries. Learn more about Sungrow by visiting: www.sungrowpower.com