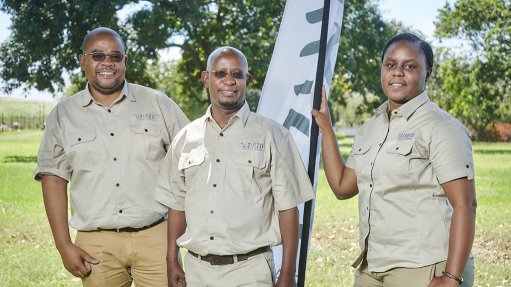 TRANSFORMATION IN SIGHT The three main shareholders in Uzinzo hold 65%
JSE-listed sugar producer Tongaat Hulett is striving to reconstruct its business to be innovative, resilient and cost effective.
It is also aiming to fundamentally alter its relationships with its surrounding communities as part of the key national imperatives of agricultural development and transformation.
In a submission made to Engineering News, Tongaat asserts that its strategic realignment involves the company's optimising its direct sugar cane farming activities in South Africa.
Forming part of Tongaat's FarmCo initiative, the Uzinzo Sugar Farming business enabled Tongaat to accelerate its transformation initiatives by empowering several key stakeholders, mainly from previously disadvantaged backgrounds.
Part of Tongaat's business redesign is the long-term development of its extensive property portfolio. The company says its medium-term goal is to ensure that land remains productive under sugar cane.
Tongaat's South African sugar operations comprise 119 000 ha, of which 8 400 ha (7%) is owned and farmed by the company, 61 500 ha (51.6%) by white commercial farmers and 49 300 ha (41.4%) by previously disadvanvtaged individuals.
The company aims to bring the share of previously disadvantaged individuals in its supply mix to 50%. As part of this drive, the company facilitated the creation of Uzinzo Sugar Farming.
The first phase of the initiative resulted in shareholders' leasing three prime agricultural estates at below market-related prices. The leased area is about 3 900 ha, with the potential to produce more than 160 000 t of sugar cane a year.
Tongaat explains that this made Uzinzo one of Tongaat Hulett's top five largest supplying growers, adding that yearly Uzinzo revenue is expected to be R79-million.
The company highlights that it aims to transition a number of its farms into commercial opportunities for third-party growers to farm company-owned land as part of its drive to transform the industry.
The main shareholders in Uzinzo are Nonhlanhla Gumede, Khetha Ncalane and Khumbulani Mthethwa, who together hold 65%. Employees – through an employee trust – hold 15% shareholding while Tongaat retained a 20% shareholding.
Along with its commitment to transformation, the company has played a facilitative and mentorship role in the short term to guide the new project through its embryonic phase.
Ncalane advances that the Uzinzo shareholders had to "hit the ground running" when they took over Tongaat's operations in October.
"We had to compress eight months of work into three months," he notes.
It was important for Uzinzo to collectively achieve its targets and deliver its cane before the mill closed, Mthethwa highlights. He adds that Uzinzo delivered 149 000 t for the season between April and December 2019, and accelerated the ratoon maintenance programme on these three farms. Although the shareholders took over in October, the lease was effective from April and as such, all cane in the season was attributed to them.
Moreover, Uzinzo is planning to plant 500 ha in the current season and to increase its output to 181 000 t from the 149 000 t delivered in 2019/20.
Uzinzo also took on about 700 former Tongaat employees to offset some of the impact of retrenchments while encouraging broader youth, women and black farmer participation and empowerment in the sugar industry.
Ncalane notes that the induction process is still ongoing, and the focus is to orientate people about "our vision, which is to stabilise the sugar industry through good farming practices".
Subsequently, the three directors embarked on several roadshows to communicate Uzinzo's values of integrity, teamwork, respect for people, accountability, collaboration, and creating economic opportunities for the people in and around the areas where Uzinzo operates.
Tongaat assisted Uzinzo by developing systems; providing loan finance, equipment and relaxed rental terms; and allocating experienced mentors to support staff on the various aspects of the business.
The milling, refining and sugar marketing business is set up along similar values, to transform the industry and enact a vision of increased empowerment, inclusivity and partnership, with women and youth the key target stakeholders.
The milling, refining and sugar marketing business will have installed capacity to produce more than one-million tons of sugar a year, the company highlights.