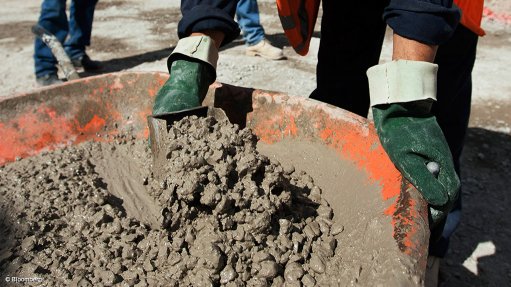 Photo by: Bloomberg
Building collapses in South Africa could become more prevalent should there be an escalation in the use of inappropriate or substandard building materials in construction projects, Aggregate and Sand Producers Association of South Africa (Aspasa) and the Southern Africa Readymix Association (Sarma) director Nico Pienaar has cautioned.
He said in a statement on Friday that "incorrectly-specified" materials could lead to immediate or future building failures as a result of increased loads or owing to the corrosion of foundations from surrounding soil conditions.
Pienaar stressed that the role of the engineer was, therefore, critical in establishing soil conditions and geological conditions, as well as in establishing the specification of suitable stones and sands to mix with the cement.
"The size of the aggregates used in concrete, or the composition of sand used, can play a role in the future strength of a structure. For example, acidic soil may corrode certain types of stone and can eventually lead to pitting and tunnelling of foundations, which can make it spongy and unsuitable in years to come," he commented.
He added that the entry of unlicensed and "unscrupulous" quarry and mine operators in the sand and aggregate supply industry in South Africa was creating confusion.
"These operators may claim to be mining a certain type of aggregate at a certain location, when, in fact, they do not have a mining licence and are illegally obtaining it elsewhere. At surface level, the aggregates may look the same, but they may have completely different chemical compositions when examined under the microscope," he asserted, adding that developers should source aggregates from accredited and registered Aspasa members to mitigate this risk.
He further advised that, when readymix concrete was being used, design engineers should ensure that the materials were being appropriately procured from Aspasa members and that readymix suppliers were registered and approved by Sarma.
"It is also advisable that, when mixing concrete on site, the project manager should oversee material use and ensure that mixtures are correct and ratios are as specified. Failure to do so may have catastrophic consequences," he warned.
Pienaar's comments came three days after the collapse of the half-built Tongaat Mall, in KwaZulu-Natal, in which one person was killed and dozens more injured. Inadequate building materials and nonexistent permitting could have played a role in the incident.