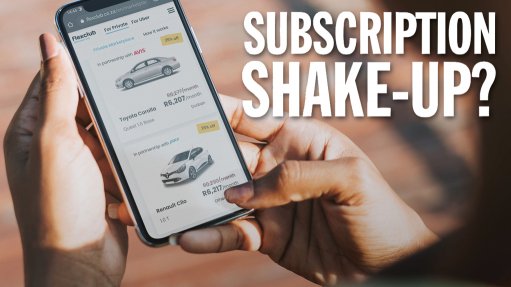 Imagine not buying a car. Imagine buying the use of a car for a minimum of a month, all costs included, and then simply changing that car through logging on to a website and having a new car delivered to your doorstep within a week.
Imagine moving from a nippy Kia Picanto in Cape Town's narrow city streets to a four-wheel-drive Ford Ranger for a trip to the Cederberg, and then perhaps on to a German luxury car for a round of business meetings in Sandton.
This is the basic premise of FlexClub, a new car subscription business that officially opened its doors in December last year, following a challenging start in 2019 just before Covid-19 hit.
Cofounder and CEO Tinashe Ruzane describes the subscription business model as "something between a short-term rental and a long-term lease".
"Compared with expensive short-term vehicle rental, where it is well known that you cannot select a specific car," he says. "It's a lucky packet from either Group A, B, C, or D."
"Vehicle rental companies are also built around physical branches – with customers going into those branches to collect the car and have their licences, IDs and credit cards verified.
"In contrast, with a lease, customers have the benefits of lower costs, compared with the rental option, and they can choose a specific car, but they are not able to cancel early without a significant penalty."
With FlexClub vehicle subscriptions, clients can go onto the website, select a car at a monthly price tag that includes all costs (delivery, insurance, maintenance and service), have their identity and creditworthiness verified, conclude the payment online, and have the car of their choice delivered to the address stipulated within a week by the FlexClub fulfilment team.
And, when clients tire of a vehicle, or when their needs change, they use the same process for the old vehicle to be collected and to order a new vehicle.
Clients are also able to earn points for good driving behaviour, in something like "a Vitality programme for drivers", explains Ruzane.
Starting Point
The 34-year-old Ruzane grew up in Pretoria, "on the other side of the boerewors curtain".
He studied finance at Tuks, after which he worked at Deloitte, followed by an eight-to-five job at an impact investment fund, the aim of which was to help microentrepreneurs grow their businesses.
"Uber approached the fund to help their drivers access finance," says Ruzane. "It wasn't really a good fit for the fund, but I was intrigued by the concept behind Uber – this was shortly after the e-hailing service officially launched in South Africa in 2013."
Former Uber Africa boss Alon Lits convinced Ruzane in 2015 to leave the investment fund and join Uber. (Lits is also a current adviser to and investor in FlexClub.)
"At Uber, I started building what they called 'Vehicle Solutions'," says Ruzane.
"I basically engaged the finance and automotive industries to design products especially for the Uber driver community, in order to improve their access to cars."
Ruzane's role rapidly expanded to include the rest of Africa, as well as the Middle East and Europe, which saw him move to Amsterdam, in The Netherlands, at the end of 2016 to lead the Vehicle Solutions team across the region.
This is where he currently remains as FlexClub CEO, moving between Amsterdam as a global finance and business hub, and South Africa, where much of the platform's development work is still happening, especially at the Cape Town head office.
"In 2016, I had never worked outside South Africa before, and I thought I was going to discover this new world of innovation, but coming here gave me an appreciation for how innovative South Africans are, and made me realise that a lot of what we do in South Africa is really cutting-edge," notes Ruzane.
While working at Uber in Europe, Ruzane managed to engage with some of the world's biggest car manufacturers, vehicle rental companies and leasing firms.
"I realised that there was a huge asset financing shift on the way in the automotive industry and I wanted to be part of that, but in my own market, and I decided to take the leap and start FlexClub, along with Marlon Gallardo and Rudolf Vavruch."
Ruzane convinced Uber to be their first client, with their community of drivers becoming FlexClub's first customers in South Africa and Mexico.
"We knew Uber well and knew what their driver community needed – plus we knew that banks, vehicle rental companies and leasing firms weren't all that willing to serve Uber drivers, as e-hailing is perceived to be a risky segment of the market.
"However, we felt that technology had evolved sufficiently to give us the ability to discern who the really risky customers were.
"We also felt that, if we learnt how to do this properly and support Uber well, we could, over time, help any partner to provide car subscriptions to any customer."
The result was that FlexClub opened its doors in South Africa in 2019 with its first few hundred cars, with Uber drivers as its only market segment.
Ruzane recalls how FlexClub was not exactly inundated with companies willing to provide vehicles to Uber drivers.
This meant that FlexClub had to rely on individuals making their vehicles available to the company, at a fee, for use by Uber drivers.
"Let's say you had a Toyota Corolla sitting at your house and decided FlexClub could use the car," says Ruzane.
"We collected the vehicle, and you received a fixed monthly rental income as long as the car was subscribed for by one of our members.
"We operated the vehicle and looked after it, much like a property manager would do for a property owner."
Ruzane says a number of people saw this as an investment opportunity, with the company managing to secure "hundreds of vehicles" for its platform.
As the concept around FlexClub developed, it became clear to Ruzane that the company's success in managing subscriptions for hundreds of individual car owners probably meant that the company would be successful in doing so for larger institutions.
"The first institutions we engaged with were Section 12J funds, which committed up to R30-million to invest in the fleets operated on FlexClub.
"This gave us the track record to finally sit down with the local auto industry and not look like some fly-by-night punting a concept some might have believed could only really work in the US or Europe."
Then Covid-19 struck, and "the rest of 2020 was a mess", especially in the ride-sharing market, which ground to a halt as fears of infection in a close-contact environment soared.
"We took a knock and our members took an even bigger knock," says Ruzane.
"We had to go back to the drawing board and ask how we could leverage our unique skills to better assist the auto industry.
"We saw that the vehicle rental industry was also suffering, so we decided to engage them on vehicle subscriptions."
FlexClub 2.0
Ruzane and his team engaged Barloworld, local franchisee of Avis rental cars, and Motus, franchisee of the Europcar rental business, to partner with FlexClub to start exploring car subscription options for South African consumers.
"Both of them came on board and for us this was a massive feat."
This led to the reboot of FlexClub, which launched in its current guise in December last year.
"We had the digital platform, the technology to conduct risk assessments, deep knowledge of new mobility services, and an operational team with experience in managing vehicle subscriptions digitally, while Motus and Barloworld had the fleet assets and infrastructure," explains Ruzane.
A third client has since joined the FlexClub marketplace, called Pace.
In its new form, ordinary consumers can go to the FlexClub website and choose a vehicle from either Europcar, Avis or Pace to drive for at least a month, or longer.
This means that FlexClub 2.0 does not actually provide car subscriptions itself, but acts as a platform for other companies to offer this service to customers.
"We help companies design subscription products, and then we leverage our technology and operations team to manage the car subscriptions on their behalf."
With this new strategy, FlexClub found that car subscriptions can be more competitive than traditional vehicle financing for several car models in South Africa.
"The reason for this is that there is a misconception in the South African market around vehicle finance," says Ruzane. "A lot of South Africans do not realise that a true finance product is when you owe the bank nothing at the end of the loan term.
"A lot of what is marketed as finance in South Africa is not really finance at all – instead, these deals behave like a do-it-yourself rental deal, where you carry all the depreciation risk.
"The balloon payment construct where you owe the bank 35% of the value of the vehicle at the end of the loan is extremely risky financing that is essentially gambling on the car's depreciation. You are actually just renting the car from the bank, even though it is packaged and promoted as financing."
Also of importance is that the average South African new-car buyer trades in their vehicle after 38 months, says Ruzane.
"This means you have this obvious mismatch where people are using their new vehicles for three years, but financing them over six years or longer. So, in three years' time, when they want a new vehicle, they will undoubtedly owe the bank more than the value of the vehicle at that point.
"To me, this meant that these customers could be better served by the flexibility of car subscriptions."
Ruzane says the numbers prove this, with FlexClub's business having quadrupled since December last year.
"The South African consumer is definitely awake to this type of deal. We were also pleasantly surprised by how much convenience matters – delivering a better car- shopping experience.
"With the traditional car-buying experience, you need the bank, the dealer, the insurer, the licensing department, the tracking company and other third parties to all come together to enable the customer to drive off the showroom floor, keeping in mind that, as they do so, the value of that new vehicle immediately drops below their outstanding debt balance. It remains one of the fastest ways for consumers to destroy their financial value.
"With car subscriptions, we do it all. There is no mental burden, no buyer's remorse, no long-term commitment."
Deal Bundles
Ruzane says there are a multitude of subscription deals available on the FlexClub marketplace, with each company putting together its own 'bundles', similar to what a company such as MTN or Vodacom would do with cellphone packages.
"You can shop for a car with a bundle of 3 000 km a month, or 2 000 km a month. It's like a cellphone contract – you decide how much usage you want. And, if you exceed this, you pay for additional usage."
He gives the example of fully financing the purchase of a Kia Picanto Street at a 10% interest rate for R4 500 a month over 60 months, excluding insurance, maintenance and tracking.
"On FlexClub, you can subscribe for that same car at a similar monthly cost, with everything but fuel included – no need to source an additional maintenance plan, insurance or roadside assistance."
Ruzane says it is estimated that car subscriptions will account for 10% of total revenue in the automotive industry in the US and Europe by 2025.
"We know that the time is right for this product in South Africa. Driving a vehicle can actually be a service you use, not something you have to own. Just like we don't need to own planes to fly.
"During peak periods, we can ship over 100 cars a week in South Africa. The number of people currently signing up is growing by 250% each month, albeit off a low base."
FlexClub currently employs about 40 people across 12 cities.
The Road Ahead
Ruzane acknowledges the reality that any company can set up its own platform to distribute car subscriptions, which is why the future of FlexClub depends on continued investment in new technology that will make it the preferred distribution platform for any company interested in offering car subscriptions.
Japanese carmaker Toyota has, for example, invested heavily in car subscriptions through a business called Kinto. In Europe, even banks are launching car subscriptions, with Santander in Spain starting the roll-out of its Wabi car subscriptions, and Bank11 in Germany launching Smive car subscriptions.
"If we provide customers with the best shopping experience, while offering our partners the best distribution technology and operations, we believe that we can gain more traction in the market," says Ruzane.
He says FlexClub is already in discussions with "some vehicle manufacturers" that want to use its platform in South Africa to distribute their car subscription offerings.
FlexClub anticipates that more car rental groups, leasing firms, banks and manufacturers will launch car subscriptions in the coming years and aims to help them distribute their offerings.
"Using fast-moving consumer goods as an example: there are reasons why groups like Unilever derive value from a diversified distribution strategy working with Pick n Pay, Checkers, and so forth, in addition to their direct-to-consumer distribution," says Ruzane.
To strengthen the member experience, FlexClub is considering linking dedicated representatives to each member, providing a personalised service – similar to that of a private banker.
Also, while current vehicle deliveries and returns still rely on visual inspections, much like when you rent a vehicle, FlexClub is working on testing technology that leverages artificial intelligence (AI) to capture the condition of the vehicle using imagery.
Through the life of a customer's subscription, this technology will also prompt the customer to do a quick vehicle walkaround to determine if the condition of the car has changed, while also being rewarded to do so.
"Our focus is on the tech," says Ruzane. "Nobody can out-Motus Motus. That is what they do best, so we have to focus on what we do best."
FlexClub is also working with its partners on a service that would allow premium users to, for example, drop off a car in Pretoria, and pick up the same car in Cape Town, without having to change their subscription.
"This means there will be no additional cost for getting into a similar car in a different city."
FlexClub is also looking at expanding geographically. The company currently operates in Pretoria, Johannesburg, Cape Town and Durban, in South Africa, and in Guadalajara, Mexico.
"Durban only launched a few weeks ago, so we first have to make sure that the experience is on a par with the rest of the country before we expand to more cities," says Ruzane.
FlexClub is currently piloting a business product where companies can subscribe cars for their employees.
While the marketplace already has trucks, vans and minibuses on its platform for business customers, it would like to eventually include electric vehicles and two-wheelers.
"We are investing heavily in software engineering and product development," says Ruzane. "We [have] raised around $6-millon to date from global investors, and most of that has gone into improving our product and expanding our engineering capacity.
"There is a lot more we can do to improve the FlexClub experience for partners and customers.
"We want to be an increasingly better ally to the automotive industry in South Africa, enabling the best possible car shopping experience in the country."