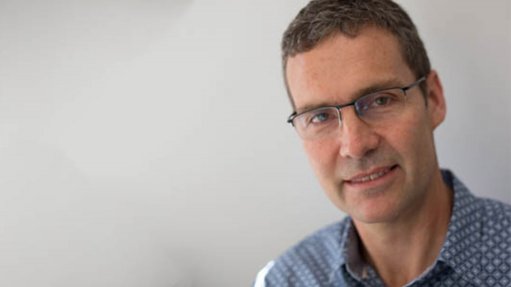 Meridian MD Dr Grové Steyn
A new study argues that cash-strapped Eskom could make immediate costs savings of up to R17-billion and boost its liquidity, without undermining security of supply, by accelerating the decommissioning of three of its older coal-fired power stations and by halting construction of units 5 and 6 at the Kusile project, in Mpumalanga.
However, should Eskom's financial crisis worsen to the point where it threatened the country's fiscal and economic sustainability, the study suggests that it could become necessary to abandon more of Kusile (as well as parts of the Medupi project, in Limpopo) to staunch any further "haemorrhaging of cash" by the utility.
Compiled by economics consultancy Meridian, the study's results follow Eskom's confirmation – in response to media reports stating that it would only have R1.2-billion in cash by the end November, against a target of R20-billion – that its liquidity levels were not at "desired levels"
Speaking at Windaba 2017, Meridian MD Dr Grové Steyn said Eskom's large power station construction programme, together with stagnant demand, had resulted in a growing surplus of expensive generation capacity.
In addition, the utility's solvency had come under pressure as a result of consistent increases in the operating costs of Eskom's coal-fired power stations, which had triggered record tariff hikes that further dampened demand.
The study draws in CSIR Energy Centre modelling of the least-cost electricity system, which concludes that new coal and nuclear plants are no longer competitive in light of the falling costs of renewables, and that, for the foreseeable future, no gas-fired power stations are required.
It also includes a Meridian analysis of the incremental cost associated with running particular stations for their remaining life, which in the case of Kusile units 5 and 6, includes the avoidable capital cost of completing the units.
It concludes that an early decommissioning of Grootvlei, Hendrina and Komati, while avoiding the completion of Kusile units 5 and 6, could yield net financial savings of between R15-billion and R17-billion, without affecting security of supply.
"If the system can meet demand over the same period by using alternative resources such as other existing coal stations, wind and solar – but at a lower cost than the cost of electricity from a particular coal-fired power station – it makes economic sense to decommission that station early, or not to complete it," Steyn explained.
To ensure that workers and communities do not bear the brunt of Eskom's financial crisis, Steyn argued that part of the savings could be used to cushion the impact by providing support for re-training, skills development and relocation.
He added that an even greater curtailment of Eskom's construction programme might be necessary if Eskom's financial crisis continued to worsen.
"Drastically curtailing Eskom's power station capital programme (beyond Kusile units 5 and 6) might be the only way to restore its solvency. This will come at a high cost in terms of the penalties to be paid to construction companies sometime in the future, and in terms of the impact on personnel working on the construction projects. But, in the increasingly likely scenario of such a national crisis, this strategy could contribute to rapidly improving Eskom's cash flow situation and lender confidence in Eskom and the State."