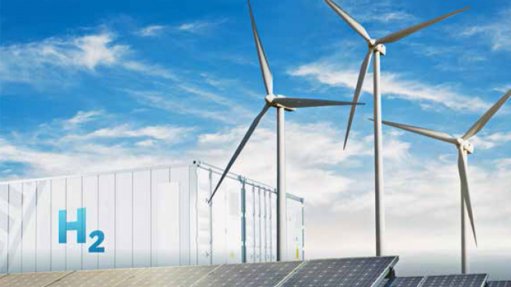 Developing green hydrogen export capacity at the ports of Saldanha Bay and Ngqura would have decarbonisation spinoffs for nearby hard-to-abate sectors, a new Council for Scientific and Industrial Research (CSIR) study shows.
Produced as a follow-up to an earlier research report that assessed whether South Africa could be competitive in producing green hydrogen and derivative products for export to Europe and Japan, the new study homes in on the domestic offtake prospects at the two ports identified in the initial study as potential export hubs.
That earlier study concluded that South Africa could produce green hydrogen competitively for export into Europe and would be able to meet Japan's $3/kg cost target before 2030.
The new study does not analyse domestic prospects for the greenfield hydrogen special economic zone being proposed for Boegoebaai, in the Northern Cape, which is being proposed for development as a high-potential hub for the export of hydrogen derivative products to Europe.
Releasing the results during a webinar hosted jointly by EE Business Intelligence and the European Union (EU) Delegation to South Africa, which commissioned the study, CSIR senior research engineer Thomas Roos said the new study included updated calculations reaffirming that green hydrogen could be produced competitively at the two ports.
It also identifies potential domestic offtakers within a 150-km radius of the Port of Saldanha Bay, in the Western Cape, and within a 50-km radius of the Port of Ngqura, in the Eastern Cape.
ArcelorMittal South Africa's (AMSA's) mothballed Saldanha Works is earmarked in the study as a potential offtaker, as the Midrex technology at the plant is able to use hydrogen to produce hot briquetted iron.
AMSA estimates that it would require 104 000 t/y of hydrogen to produce 1.5-million tons yearly.
Using green-hydrogen-derived ammonia as a marine bunker fuel at the ports of Saldanha Bay, Cape Town, Gqeberha and Ngqura could be another significant source of demand, with the study calculating yearly demand at Saldanha Bay and Ngqura alone at 498 000 t and 242 000 t respectively.
Other possible sources of demand could arise from Cape Town's MyCiti bus service should the city choose to operate a fuel-cell bus fleet in future, as well as to run port equipment at Transnet harbours, or ground vehicles at the nearby airports.
The study concludes that should the bunker fuel and AMSA opportunities materialise, dedicated green hydrogen production would be required, while the balance of the opportunities could be accommodated by the export-focused facilities.
Speaking on the same platform, Boston Consulting Group's Kesh Mudaly said that South Africa had the solar, wind and land resources to produce more than six-million tons of green hydrogen yearly by 2050, split almost evenly between exports and domestic use.
Reaching such a scale would not only require a massive 130 GW renewables fleet dedicated to supplying a 60 GW electrolyser fleet, which would consume 57 GL of mostly desalinated water yearly, but would also hinge on South Africa adopting a coherent national strategy.
"A nationally coordinated approach and an enabling regulatory environment are critical," Mudaly said.
EU Ambassador to South Africa Dr Riina Kionka said that green hydrogen imports would be important for Europe's transition to net-zero carbon emissions by 2050 and that the EU was confident that it could work with South Africa in a way that could also support South Africa's own decarbonisation.
She stressed that the EU's participation in the $8.5-billion just energy transition financing facility offer announced at COP26 was designed to support South Africa's transition, with "full respect for South Africa's policies and legislation".
The lion's share of the facility is expected to be directed towards the electricity transition, but the South African government also plans to use the concessional funds to support the development of the green hydrogen sector and to support the domestic manufacture of electric vehicles.
Kionka also announced that the EU would be funding a study tour for South African government officials in February to expose them to the green hydrogen opportunities opening up in Europe.