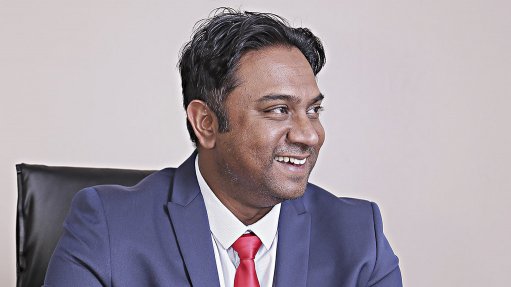 VISHAAL LUTCHMAN Government has not prioritised infrastructure development for the past decade and it will likely not prioritise it in 2021 either
With South Africa's fiscus placed under immense strain as government attempts to combat the effects of the pandemic, South African Institute of Civil Engineering (Saice) CEO Vishaal Lutchman fears that owing to the Covid-19 pandemic, the country's leadership is in "head down crisis mode", with little to no consideration for the medium- and long-term impacts or plans to mitigate our economic decline.
Such a short-term focus on Covid-19 and the need to produce and vaccinate should be balanced with an equal focus on development. "There is no indication that there is a focus beyond the immediate short term. Government appears to be in a survival mode rather than a strategic mindset."
Lutchman says there is a need to consider how the country will repay its immense and growing suite of debts once the Covid-19 crisis has abated. The solution lies in the effective and efficient provision of infrastructure en masse.
He explains that the country's economy was already in a state of disrepair before the pandemic hit last year, with Covid-19 resulting in a further economic decline of about 16%, according to Statistics South Africa. This has led to a 50% reduction in the country's gross domestic product (GDP) growth rate.
"The construction and engineering sector is directly linked to the GDP, and is the first in line to suffer because of the lack of infrastructure spend," he tells Engineering News.
As a result of the poorly performing economy, the construction sector is in its eighth quarter of consistent decline, with a 76% year-on-year decline in activity, as a result of the lockdowns, in 2020.
This sharp decline occurred on the back of South Africa's failing to deliver on infrastructure projects prior to Covid-19, despite Strategic Infrastructure Projects (SIPs) being budgeted for and planned without implementation for years.
"The SIPs are now outdated in terms of new objectives wherein they have to consider the latest green technology, climate change, societal sustainability and economic value. The discussion around infrastructure, which has to be resilient and sustainable, needs to be refreshed," Lutchman declares, noting that many of the SIPs are focussed on social spend that does not generate revenue, noting that there has to be a balance between revenue and non-revenue generating initiatives to improve the country's exposure to higher than ideal gearing.
"Infrastructure projects that generate revenue should be prioritised."
While local stimulus packages stop in South Africa, countries such as the US, the UK, Australia and New Zealand have ramped up stimulus programmes and have bolstered infrastructure spend to ensure medium- and long-term economic recovery.
Without a robust economic development plan, South Africa will not be able to attract foreign direct investment (FDI), which is increasingly being channelled into these countries and away from South Africa, causing lowered levels of investor confidence in the country.
Lutchman says those economies that have already started to rebuild, where vaccinations are being rolled out and confident economic rescue plans are under way, are attracting FDI.
It is expected that government will likely redirect much needed funding in infrastructure budgets towards paying for vaccines, thereby causing further long-term economic strain, as critical infrastructure projects are deferred into the future. Meanwhile, the current budget deficit plays a fearful role in the allocation of existing funds.
"Government has not prioritised infrastructure development for the past decade and it will likely not prioritise it in 2021 either," Lutchman laments, citing a lack of capacity, a lack of confidence in government's general ability to deliver on its promises, ongoing corruption and a failure to implement in favour of having endless discussions as some of the reasons for this situation.
"There has been too much talking and not enough doing in the form of the execution of basic State mandates. From our perspective, we know exactly what needs to be done and how it can be achieved, but we need to be allowed to do it, within the context of the current legislation," Lutchman says.
While government maintains a stranglehold on infrastructure implementation, there is an opportunity to reconsider encouraging the adoption of the construction sectors' short- and medium-term recommendations.
Lutchman says Saice stands ready to spur the industry into action in support of infrastructure roll-out, having access to some of the most highly specialised skills in the country, which are "draining out of the country" owing to better work opportunities abroad, opportunities in other sectors and the overall need for engineers to remain sustainable.
"Saice will not stop trying to engage with government on technical and strategic topics despite the strained relationship between government and industry. We will continue to try to build trust and ethical accountability in the sector," Lutchman concludes.