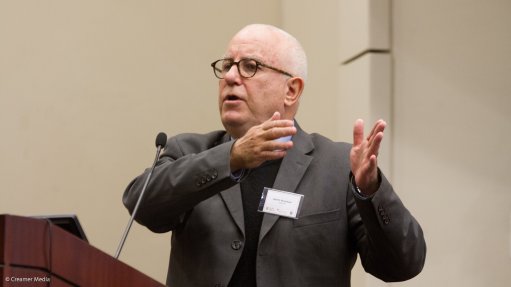 SABS acting CEO Garth Strachan
Photo by: Creamer Media
South African Bureau of Standards (SABS) acting CEO Garth Strachan has suddenly resigned, the Democratic Alliance (DA) reported on Friday, citing they were "reliably informed" of the resignation.
The political party said in a statement that his resignation had followed a fallout with Department of Trade, Industry and Competition director-general Lionel October around Strachan's suggested "repurposed" version of the SABS.
SABS in a statement on Friday confirmed that Jodi Scholtz would serve as the lead administrator while the process to appoint a replacement lead administrator was underway.
The DA said the fall-out stemmed from the Portfolio Committee's oversight visit to the SABS this week, where it was said that the entity was essentially bankrupt, would run out of cash in the next financial year and was battling to attract thousands of customers it had lost under the previous board and management.
The previous board and management were dissolved by former Trade and Industry Minister Dr Rob Davies in June 2018. Strachan had served as acting CEO since August 2, 2018.
Attempts by Engineering News to contact Strachan on Friday afternoon were unsuccessful.
"There can be no doubt that the departure of Strachan will have a knock-on effect for exporters who rely on the SABS for quality assurance in international markets and for consumers who expect goods that display the SABS mark to meet minimum standards for health and safety," the DA noted.