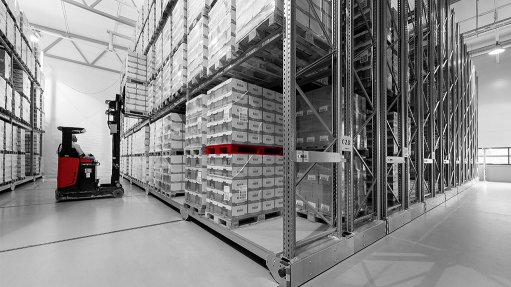 SUPPLY CHAIN ENHANCING The Gonvarri range will further enhance LSE's capability to deliver projects – including providing mobile racking systems and pallet shuttles for food and beverage customers
Local logistical equipment solutions provider Logistics Systems Engineering (LSE) has formalised an exclusive distribution agreement with storage products provider Gonvarri Material Handling, which will make Gonvarri's range of storage systems and technologies available in Southern Africa for the first time.
Gonvarri Material Handling – a subsidiary of Europe-based Gonvarri Industries – will trade together with LSE in Southern Africa under Gonvarri's brand, Constructor, which supplies a complete range of storage systems.
The range includes a variety of steel pallet racking and shelving systems, storage machines and automation systems.
Having access to this range, which is manufactured in Germany, Romania and Finland, enables LSE to provide high-quality, customer-orientated solutions to meet customer requirements.
"The range is so vast, and because every customer has a different need for this range, all these solutions can be tailor-made. We need to understand customer requirements and configure a solution to help customers improve their bottom line," LSE CEO Fred Albrecht explains.
Gonvarri Industries' having acquired different businesses, and technologies through those acquisitions, ensures that LSE has access to these technologies to service many different local industries, he highlights.
Through this partnership, LSE can also appoint subdistributors and agents to assist in distributing the range in Southern Africa.
Albrecht says this European range is ideal for Southern Africa which is a region that ought to demand the highest standards in safety and quality, but owing to the minimal presence of formalised legislation to manage the production quality and design of storage systems and technologies in the region, is unable to be provided to South African users. South African systems fall particularly short when compared with those of European systems.
This leads to a plethora of products, which vary widely in quality, from other companies flooding the market in Southern Africa.
"What we can offer, however, is structurally engineered storage systems and technologies that are approved by European standards, regardless of minimal legislation. We are the only company in Southern Africa that can provide these standards on every system it provides."
Albrecht also stresses that there has never been any structural failures or collapses in Gonvarri's range of storage systems and technologies, owing to Gonvarri's drive to provide quality systems that are supported by structural calculations and techniques.
"We wanted to have a partner that contributes to a new wave of innovative design. "We want to show the local market that innovative design and supply of a customer's warehouse storage system is a significant contributor to that customer's overall supply chain and strategy."
This range will further enhance LSE's capability to deliver small- and large-scale projects – including the construction of large-scale cold storage solutions, providing systems such as mobile racking systems and pallet shuttles for food and beverage, pharmaceuticals and fast moving consumer goods customers – in Southern Africa.
Projects on Hold
While Albrecht enthuses about the positive response from the Southern Africa market to the range, and some of the systems in the range being used, Covid-19 has caused concern among investors in some of these projects.
While LSE is able to mitigate many of the financial and operational challenges because of the lockdown measures, the physical implementation of these projects remains a challenge such as for workers moving equipment and tools around a warehouse during installation.
"This is also prompting us to get more innovative with our designs to reduce human contact of equipment and products, and to automate processes. "Improving efficiencies in warehousing is essentially about reducing human contact and having at least a semi-automated system provides this. This makes your supply chain more efficient and at the same time, more compliant with Covid-19 health regulations," he argues.
LSE aims to acquire and attract more of the right staff and expertise, particularly in different local sectors, to sell this extensive range, even during lockdown. He emphasises this scaling up of the company's operations, while many others are scaling down owing to the poor economic climate, to bring this range to the local market.
"The long-term goal of LSE is to ensure that all the brands and businesses we bring into the company through partnerships, such as those with Gonvarri, complement one another. We provide customers with a choice of solutions through a large range that can meet their requirements and make their operations more efficient," he concludes.