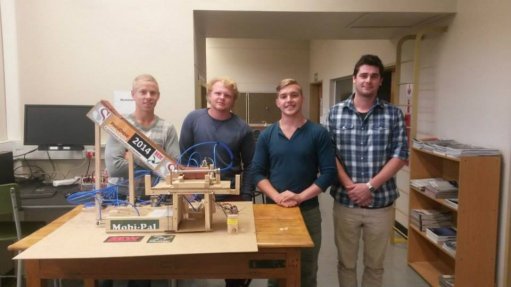 Engineering students from Stellenbosch University (SU), in the Western Cape, took top honours during the 2014 PneuDrive Challenge prize-giving ceremony, held in Johannesburg last month, for their innovative Movipal mobile palletising solution.
The PneuDrive Challenge – sponsored by engineering and pneumatics company SEW-Eurodrive and pneumatic solutions provider Pneumax – aims to help the top mechanical, electronic and mechatronic engineering students showcase their talent to bring together engineering theory, pneu- matics, business reality and the latest technology in drive engineering.
Both companies realise the importance of the role of business in partnering with higher education institutions to help address the significant pressures they are under to prepare skilled engineering students for the labour market.
SU students' Movipal mobile palletising solution addresses the problems associated with two warehouse operations – palletising and local transport – and combines the functionality of a gantry- style palletiser and a forklift to provide a mobile palletising solution.
Students of the winning design, Landolf Theron, Herman Nieuwoudt, Jos van der Westhuizen and Stefan Nel have won a ten-day, all-expenses-paid trip to Germany and Italy, where they will also present their designs to the head offices of the sponsor companies, which, in turn, will be another learning opportunity for them.
SEW-Eurodrive and Pneumax will also provide products worth more than R300 000 for the participating universities to make the latest drive and pneumatic technology available to future students.
Completing the Trio
Students representing Nelson Mandela Metropolitan University, in the Eastern Cape, were awarded second place for their TetraStack, an ultra-high throughput warehouse defragmentation system.
The innovation, based on the popular Tetris game, was designed by Adriane Bestic, Shuldham Peard, Ashley Naude and Christopher Sephton.
The design mirrors the sorting action of the game by continuously rearranging crates within a racking matrix to use the least amount of space as low down in the matrix as possible.
Gauteng-based University of the Witwatersrand students Gareth Krisch, Adam Bartels and Eitan Kassuto came third. They presented the Out-the-Box-Palletiser design, which could be a solution to the manual labour palletising problem, as the solution proposes a standalone, mobile and flexible palletising device.
The design could provide warehouses that usually use manual loading with an alternative application that could reduce running costs, increase productivity and improve worker safety. The design is also flexible enough to be integrated into most line palletising operations.
PneuDrive 2015
This year's challenge again invites local third- and fourth-year mechatronic, mechanical or electronic engineering students to showcase their technology, innovative engineering and talent under the theme: Food and Beverage Industry.
Students are encouraged to design 'game-changer' applications for the local food and beverage industry, while improving productivity, reducing waste and improving the bottom line for businesses.
The deadline for submission is October 8.
SEW-Eurodrive communication GM Rene Rose says one of the biggest challenges for South African business is the need for students entering industry to quickly become fully informed about the industry.
She adds that businesses need to offer support in the form of learning experiences that enable students to apply academic knowledge on a practical, business level.
"The competition, which has been run yearly since 2008, shows that, with structured business support and intervention, it is possible to provide learning platforms,' she says.