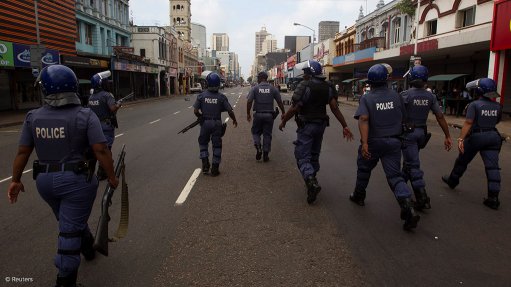 Photo by: Reuters
South Africa has seen a steep decline in the number of people moving around cities in the wake of the announcement of a 21-day lockdown by President Cyril Ramaphosa, according to new 'mobility report' data released by Google on Friday.
The data – which Google released in a bid to help officials judge the effectiveness of physical distancing measures to combat the spread coronavirus pandemic – tracks users' locations in over 130 countries.
Its report on South Africa shows that traffic to public transport hubs decreased by a whopping 80% on Sunday, March 29, compared to baseline levels measured on Sundays in January and February.
South Africa's lockdown went into effect on Friday, March 27.
To compile its report, Google first created a baseline of data that showed South Africans were moving around cities on specific days during the five-week period between January 3 and February 6 2020. The internet giant looked at how often they would visit transit stations, workplaces, grocery stores or parks, using data from its popular Maps App.
The report then compared this with how movement had declined. For South Africa, the latest date of comparison was Sunday, March 29.
Shops - including supermarkets, food warehouses, fresh food markets, speciality food shops and pharmacies - showed a decline of 60%, while traffic to beaches, public gardens and other recreational areas fell by 55%. The smallest decline in movement was recorded in workplaces, at 49%.
The tech giant says the data, which it has made available online, has been anonymised. It does not show the details of individual users, but rather trends collated from aggregated data.
The data compares how both visits and length of stay at different places change compared to the baseline.
Ramaphosa ordered the three-week nationwide lockdown in a bid to slow down the spread of the pandemic so that it doesn't overwhelm South Africa's health system. The lockdown is set to continue until April 16. While South Africans have largely been ordered to remain at home, workers classified as performing essential services have been permitted to continue working.
Google's data appears to indicate that many in South Africa are, in fact, staying at home – with 24% more movement recorded at places of residence compared to the February baseline.