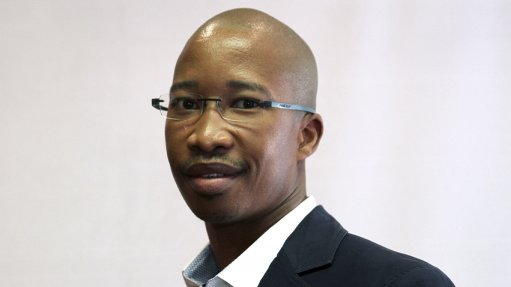 KEITUMETSE MOUMAKOE The South African steel industry, including the steel tube and pipe sub-industry, requires an export strategy that is supported by government policies
South Africa's carbon steel and low-alloy-steel tube and pipe manufacturing industry exported about 221 000 t in 2017, compared with 278 000 t in 2018, an increase of 26%.
This increase has been largely buoyed by a sharp increase in seamless pipe exports in 2018, says Steel Tube Export Association of South Africa (Steasa) CEO Keitumetse Moumakoe.
He adds that the 2019 export outlook, however, remains positive when one compares the first two quarters of 2018 and 2019.
"This is underpinned by strong seamless pipe, electric resistance welded line pipe and tubular mining equipment exports, especially in the first quarter of 2019."
The local challenges that South African steel tube and pipe manufacturers face in their pursuit of exports, stem from cost inefficiencies in the local supply chain, he adds. These inefficiencies include high operating costs, such as those for electricity, logistics, domestic hot roll coil, ports and fuel, and even carbon. Electricity increased by 500% over the past eight years, while Durban and Cape Town rank second and third respectively as the most expensive ports globally, he says.
"The South African steel industry, including the steel tube and pipe sub-industry, requires an export strategy that is supported by government policy for adherence and implementation."
Meanwhile, Moumakoe was one of the 25 business people who attended the Africa Down Under Conference 2019 (ADU) in Perth, Australia, from September 1 to 7.
The companies' participation in ADU was part of the outward selling mission to Australia, which was organised and funded by the Department of Trade, Industry and Competition (DTIC).
"Our participation in the mission to the ADU conference was part of our concerted efforts to seek competitive export markets for our membership."
He adds that the association's main objective was to gather information on which projects are in the pipeline in Australia that financiers are willing or planning to support.
"The mission assisted us in determining how South African companies can explore opportunities to participate in various stages of mining projects and in facilitating the export of their mining-related steel tubular products and expertise to Australia and Australian projects in Africa."
In August, Steasa took part in an outward selling and investment mission, held in Lusaka, Ndola and Kitwe, in Zambia, with the focus on identifying steel infrastructure projects for members.
Moumakoe adds that key engagements with the Zambian Association of Manufacturers were held with its president, Ezekiel Sekele, on how the two associations could strategically start aligning some of their sectors for mutual benefit.
For example, the Zambian Association of Manufacturers' steel and metal sector could be aligned with the Southern African Institute of Steel Construction on standards, lessons learnt from local content/designation, tariffs and steel construction education. These matters would inevitably lead to more steel trade and investment opportunities.
He explains that opportunities identified on this mission were the construction of steel bridges throughout the rural regions of Zambia. The Zambian Road Development Agency (RDA) recently acquired 131 modular steel bridges from US engineering company Acrow Corporation for $73-million and they will be installed in rural areas where previously installed bridges had washed away.
However, the RDA states on its website that more bridges are required, and this is the opportunity that Steasa wants to take advantage of, says Moumakoe. This would be similar to the partnership between the government of Zambia and Acrow Corporation for the arrangement of financing, design, fabrication, local installation, training and the delivery of the bridges.
"Steasa is working closely with Trade Invest Africa, a division of the DTIC, on realising this opportunity in Zambia."
Africa Wire, Cable and Tube Conference
Steasa will be moderating the Africa tube and pipe leadership plenary session at the Africa Wire, Cable and Tube Conference 2019, which will be held from November 11 to 13 at Emperors Palace, in Johannesburg.
This event offers a unique opportunity for industry professionals to learn more about exciting new markets for these products.
There will also be invaluable networking opportunities for local industry stakeholders to meet with those in the international supply chain, and to discuss the main trends affecting the global market and how they can be explored in terms of opportunities and mitigating challenges.
"I look forward to the various keynote and plenary sessions that cover the most pertinent issues, challenges and opportunities affecting the steel tube and pipe market in Africa and beyond," says Moumakoe.
Such a landmark event brings African and other international wire, tube and cable companies to South Africa. This will enable local manufacturers to showcase their capacities, engage on industry matters pertinent to Africa while showcasing their manufacturing facilities.
Steasa hopes to gain insight from the plethora of international companies that will participate in the conference regarding their views on investment opportunities, collaboration with South African entities and on the impediments.
"The event will enable Steasa to establish formidable business relations with other associations and companies, local and international, thereby bolstering our quest to be the facilitation gateway for South African steel tube and pipe exports."