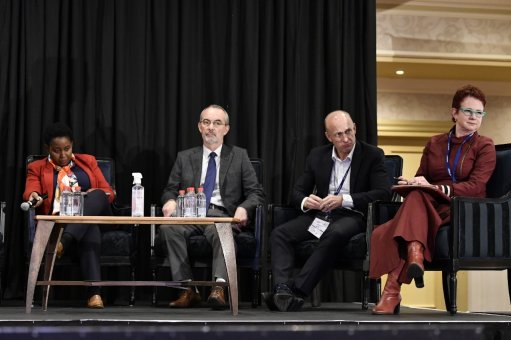 Manufacturing Circle executive director Philippa Rodseth, Macsteel CEO Mike Benfield, Minerals Council chief economist Henk Langenhoven and DTIC acting deputy director general Thandi Phele
Photo by: Creamer Media's Donna Slater
There are a number of opportunities both government and industry can capitalise on immediately while pursuing the implementation of the Steel Master Plan, speakers agreed during a panel discussion at the Mainstreaming the Steel Master Plan Conference on May 19.
Manufacturing Circle executive director Philippa Rodseth mentioned municipal infrastructure as an example. As a result of the municipal infrastructure challenges facing the country, there is a lack of proper service delivery, impeding manufacturing.
She said this was an area where a lot could be done in a short time on a collaborative basis between government and industry.
She elaborated that the industry could participate with implementation and in terms of financing. For example, if there are already established substations that require refurbishing, the industry could come in with the finance and tools to undertake this, while collaborating with government at the municipal level, as this infrastructure is owned by government.
Rodseth said that another low-hanging fruit would be to look at what can be undertaken for projects immediately in terms of rollout, and thereby getting the private sector involved expeditiously to undertake these.
Macsteel Group CEO Mike Benfield emphasised that engagements between industry and government were vital. In this regard, he said, the State needed to take the initiative, with immediate action required for it to engage with the private sector in a meaningful way and to open up opportunities for project implementation.
He noted that one area of considerable, immediate opportunity was for industry to take up running elements of the State that are failing, saying this had the potential to be transformative.
For example, he said, industry must be given permission to take up the running of local sewage and electricity distribution, besides others, as this would bolster demand while showcasing decisive political will on government's part.
Minerals Council South Africa chief economist Henk Langenhoven, meanwhile, said the mining industry had not seen massive investment for several years, with the lack of investment linked to a lack of confidence in future growth.
He noted that while there was demand for mining products, high costs and service disruptions, such as the rail and port operations owned by Transnet, made it difficult to transport goods to meet demand for products.
Department of Trade, Industry and Competition acting deputy director-general Thandi Phele outlined that the masterplan was a social compact and that getting the private sector involved was integral to its success.
She pointed out that the private sector had come forward to commit funding for a project management control office.
She noted that this did not absolve government from its duties in terms of implementing the plan, but would rather allow for better coordination of the day-to-day management of executing the plan.