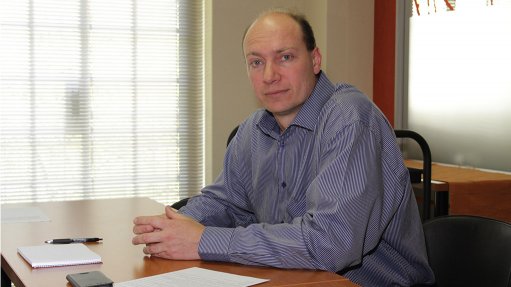 South Africa Institute of Steel Construction CEO Paulo Trinchero
In light of the recently implemented safeguard duty on hot-rolled steel, continued collaboration among stakeholders is necessary to protect the steel industry against the influx of steel imports, said consulting firm XA International Trade Advisors director Donald Mackay on Tuesday.
Speaking at a steel industry workshop, in Johannesburg, focusing on the safeguard tariff, Mackay added that the industry needed to focus on solutions that would benefit the entire sector.
From July, South Africa aims to put emergency safeguard tariffs on flat hot-rolled steel product imports, which will be introduced in addition to the 10% duty already in place for hot-rolled steel. This will raise overall protection for the product to 22% for a three-year period.
The safeguard tariff will fall from 12% in the first year to 10% in the second year and 8% in the third.
This tariff proposal was based on a final determination by the International Trade Administration Commission of South Africa (Itac) announcing that domestic production had suffered significant damage from an unforeseen surge in imports.
Mackay explained that duties were normally applied to the end product, which means that the benefit flowed upstream.
"What we see here is the duty being imposed upstream. Because it is done out of sequence, it is creating a disproportionate amount of pressure, more than industry would normally have," he told Engineering News Online on the sidelines of the workshop.
Mackay noted that it was an unusual situation as hot-rolled steel was an upstream product.
"The duty declined in the tube and pipe sector, which is a product much further downstream. We now have a situation where, after implementation of the safeguard, hot-rolled coil will have an effective duty of 22%, while the pipe industry will have 10% duty."
Mackay explained that the duty on the raw material was therefore more than double that of the duty on the final product, creating a large incentive to import the pipe instead of coil.
He added that the sustainability of the steel sector – both upstream and downstream – was integral to achieving the country's economic and development goals.
Mackay noted, however, that for South Africa to survive the infiltration of international competition, it required synchronised efforts from all involved domestically.
"We need to focus on what can be done in the short term while a bigger strategy is being looked at," he said.
Also speaking at the workshop, South African institute of Steel Construction (Saisc) CEO Paolo Trinchero admitted that the industry had made "a lot of mistakes".
"We need to work with tariffs and companies need to learn how to apply them, it is one of the practical things we can do that can influence what is currently happening in the industry," he said.
Trinchero noted that Saisc had identified import threats from China almost a decade ago.
"We saw China as a real issue. In 2015/16 the commodity cycle played a very important role in the industry and the slowdown in China resulted in excess steel capacity and imports becoming a real challenge."

Trinchero stated that the industry had assumed that this would only last for two to three years, but that it was clearly not what was happening.
"Many European producers estimate that China's overcapacity will be in place for over a decade," he said.
Trinchero further highlighted that the safeguard tariff had the potential to influence the steel sector's thinking, and that it had to be carefully considered by all companies active in the industry.
He noted that the downstream industry was not well prepared regarding the tariffs.
"There are many different sectors and lots of competition. People don't get on. Looking at tariffs, it is important to work together as an industry. This has been one of our major shortcomings," he said.