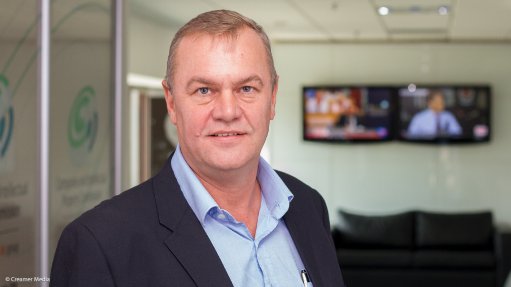 AMSA CEO Kobus Verster
Photo by: Creamer Media
Steel producer ArcelorMittal South Africa (AMSA) has rebuffed increasingly vociferous calls for the elimination of safeguard duties to ease ongoing supply constraints and price increases in the domestic market.
CEO Kobus Verster acknowledges that some backlogs, which began to emerge in late 2019 and became more acute once lockdowns were imposed in response to Covid-19, remain for some categories of steel, most notably flat-steel products.
However, he disputes arguments that the shortfall could be addressed simply by removing the 8% safeguard duty currently being applied on hot-rolled coil (HRC) in addition to base protection of 10%.
Recent domestic price increases, he adds, are the result of global market developments and have been less steep than those experienced in other markets.
Domestic HRC prices have more or less doubled to R19 000/t over the past year, with Verster noting that prices in the US have more or less trebled over the same period to $1 800/t.
South African flat-steel prices are set using a government-approved 'basket price' methodology, whereby the price is arrived at following analysis of selling prices in a range of markets included in the basket.
Several downstream steel customers have expressed deep unhappiness with the make-up of the basket and, more recently, about both the backlogs and pricing developments.
South Africa's largest steel merchant, Macsteel, has even initiated legal proceedings to have the latest extension of the safeguard duties declared unlawful, while others have raised questions about the logic of sustaining a primary steel industry in light of AMSA's inability to supply at competitive rates.
Verster refuses to be drawn on the merits of the case, which is scheduled to be heard in June, saying only that it will argue that removing safeguards – first introduced on a sliding scale in 2017 to "level the playing field" against unfair import competition and since extended – will not help address the immediate backlog.
"Removing the safeguard is not the key to resolving the backlogs.
"[That's because] it's not a price issue, as price is not the driver currently in the world. The problem for an importer is that, if they place an order now, they will have to wait until November or December to receive the material."
The supply-chain, he argues, is being negatively affected by difficulties in securing shipping capacity to deliver.
Supply in South Africa has been affected further by the fact that AMSA has had some difficulties in ramping up production at Vanderbijlpark, Vereeniging and Newcastle since emerging from the hard lockdown. This, even after reversing its decision to idle Blast Furnace C at Vanderbijlpark and increase output from its Vereeniging electric arc furnace.
Nevertheless, Verster says its operations are currently producing at a tempo that is "in line with domestic consumption".
"Although we have backlogs, we are able to supply the current demand – so if a customer used to take 20 000 t, as an example, we are supplying 20 000 t."
He adds that, while there are shortages of certain flat products, long-steel demand remains uncertain, with little visibility of new infrastructure projects.
Its long unit is, thus, operating at a utilisation rate of about 65%, while the utilisation rate at its flat unit has recovered to 80%, with growth beyond that point currently constrained by raw-material and logistics problems, including ongoing cable-theft-induced rail service disruptions.
AMSA has no intention of immediately restarting its mothballed Saldanha Steel plant, in the Western Cape, owing to a cost profile that remains uneconomic.
The group will, however, consider returning part of the operation to service in the event that it can secure an electricity tariff and the necessary levels of scrap to support such an operating model.
"We have shared before our aspirations to reinvest in Saldanha. Beyond the logistics hub we hope that discussions with various stakeholders – including government and State-owned enterprises – can result in rescaled, scrap-smelting steel production on the West Coast.
"This would be a tangible indication that the Steel Master Plan is firmly grounded in practical and collaborative actions," Verster said, referring to the master plan drafting process currently being overseen by the Department of Trade, Industry and Competition.
In the longer-run AMSA will consider repurposing the site to produce green iron for export, using green hydrogen, and it has initiated preliminary investigations of such an option together with the Council for Scientific and Industrial Research.
Verster says the immediate priority is to place "our customers and their needs front and centre as we explore our opportunities to grow".
He says he is aware of frustrations, but that the feedback he is receiving from the group's major customers is that they, too, recognise the supply-chain vulnerabilities associated with being overly exposed to imports.
"It has become clear that our customers are now eager for closer collaboration with us, as localised, shorter and more agile supply chains are more vital than ever," Verster says, while expressing optimism that "meaningful, constructive and collaborative dialogue" will enable the steel master plan to evolve into a landmark blueprint for the revitalising of the downstream industry.