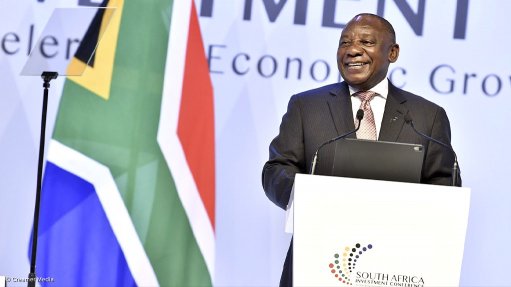 President Cyril Ramaphosa
Photo by: Creamer Media's Dylan Slater
President Cyril Ramaphosa outlined the "steady, but sure" progress being made to make South Africa a "more competitive investment destination" as he sought to consolidate an investment push designed to attract $100-billion (R1.2-trillion in 2018 exchange rates terms) of fixed investment over the five-year period to 2023.
Addressing investors and potential investors from 22 countries at the second South Africa Investment Conference in Sandton on Wednesday, Ramaphosa said that government was in the process of implementing several reforms to improve the business climate and attract further job-supporting investment.
Following the inaugural investment conference, investment pledges worth nearly R300-billion were made across 31 projects and Ramaphosa reported that most of those pledges had materialised, with R75-billion having already been spent since the 2018 event.
The President made specific reference to the liberalisation of the country's tourist and business visa systems, which had been held up as a major constraint to tourism growth, as well as to ensuring that foreign companies could bring in international managers and executives.
The business-registration process, which currently takes more than a month, was being overhauled, with Ramaphosa promising to reduce the process to hours rather than the day outlined in a pilot project being pursued by the Department of Trade, Industry and Competition. In addition, securing of water-use licenses should take three months in future rather than three years.
Progress was also being made in setting up an Investment Fund, that would seek to draw in both public and private finance to help close ongoing economic and social infrastructure backlogs.
Ramaphosa said the fund would seek to draw on the success of the Renewable Energy Independent Power Producer Procurement Programme, which had facilitated hundreds of billions of rands of investment into mostly wind and solar projects since 2011, in other infrastructure sectors.
NEW ESKOM CEO
Energy security was also being prioritised, with investment in new generation to be guided by the recently approved Integrated Resource Plan 2019 and supported by the restructuring and modernization of State-owned utility Eskom, which had been identified as the single-biggest risk to the economy and government's fiscal position.
Ramaphosa said a new Eskom CEO would be appointed within days and said that government was also working on a plan to extend debt relief to the company, whose debt burden had risen above R450-billion and beyond a point where Eskom could repay the debt without government support.
The process of releasing high-demand broadband spectrum had also been initiated, which was seen as critical to both creating capacity for further information communication technology industry growth as well as to lowering the cost of communications and digital services.
Ramaphosa also told investors that government was committed to restoring fiscal prudency by cutting expenditure and eliminating waste, describing macroeconomic stability as a necessary condition for attracting further investment.
He also drew a direct link between improving the investment climate and the social compacts being developed with business and labour. This "compact culture" had been important to improving policy certainty, consistency and predictability.
"We are on a path of removing impediments and constraints to inclusive growth. We have embarked on a path that is illuminated by policy consistency and regulatory certainty, fiscal responsibility, and decisive interventions to stimulate economic activity," Ramaphosa stated.