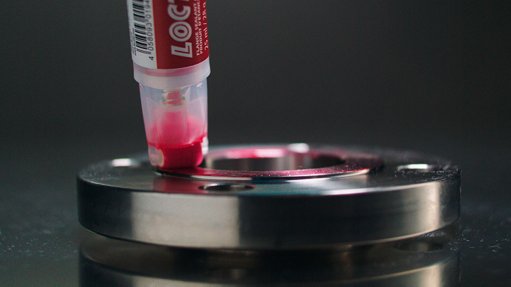 PEN IS MIGHTIER THAN THE SWORD The Loctite 518 gasket sealant pen combines the leak-fighting properties of 518 flange sealant with a roll-on applicator
Since the launch of adhesive manufacturer Loctite's 518 gasket sealant pen in South Africa last year, local distributors have shown a steady increase in sales.
The Loctite 518 gasket sealant pen was developed to complement the previously launched Loctite 518 flange sealant.
The Loctite range of products is distributed in South Africa by bearing and transmission products supplier Bearings International (BI).
"The pen combines the leak-fighting properties of 518 flange sealant with a roll-on applicator that makes applying a liquid flange sealant easier than ever, with no waste and no mess," says BI offer marketing manager Victor Strobel.
The pen makes it smoother to apply, which reduces waste and ensures total surface coverage. It also provides a very reliable and long-lasting seal, with no gaps, breaks or distortions.
Strobel adds that the flange sealant forms a flexible, high-strength and chemical-resistant seal that fills all voids and will not tear or decay. It comprises dimethacrylate ester – an anaerobic liquid adhesive – with a red gel-like appearance and thixotropic viscosity.
Benefits of an anaerobic liquid adhesive include, but are not limited to,adding structural strength and rigidity and reduced micromovements, as well as high-pressure resistance if sufficient clamp load is provided.
A greater tolerance of surface contaminants allows for a more consistent cure. The thin, single-component fluid cures rapidly in confined spaces and in the absence of air between close fitting metal surfaces. A better gap cure also seals flanges with reduced machining tolerances.
The sealant offers better flexibility for thinner, lighter-weight flange designs.
"The flange sealant ensures high performance on inactive metals withoutan activator," says Strobel.
He points out that the sealant is best suited to rigid iron, aluminium and steel flanged mating surfaces, including surfaces with minor contamination.
Importantly, it can be used for any size or shape gasket, which helps reduce customer inventory.
The flange sealant has a lap shear strength of 5.5 N/mm2 on mild steel and a service temperature range of – 55 ˚C to 150 ˚C, which makes it robust and durable, subsequently decreasing plant breakdowns to increase productivity.
"BI conducted a successful national roadshow for the launch of the gasket sealant pen throughout its 42-branch network, during which we provided training and samples to customers and staff," concludes Strobel.