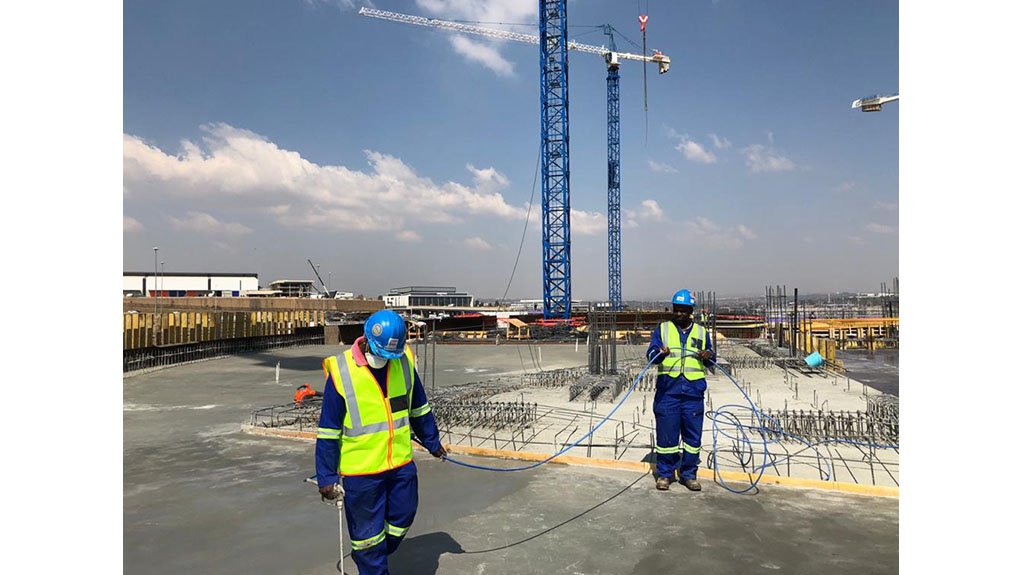 The solution is applied within 24 hours of placement of the concrete and once the substrate is hard enough to accommodate the application team.
One of South Africa's foremost waterproofing specialists used Spraylock Concrete Protection (SCP) technology to successfully cure, increase the concrete durability and waterproof the ground and first floor, as well as roof of the new Deloitte head-office in Waterfall City in Midrand.
Located right on the Allandale interchange of the N1 highway, at the eastern side of this latest growth node in Gauteng, the new premises consolidates Deloitte's Woodmead and Tshwane offices in a single central location.
Consisting of 42 500m² of workspace to accommodate close to 5 000 employees, the premises comprises a ground floor with six storeys of offices and four basement parking levels, including nearly 2 000 parking bays.
The more than R1-billion building is co-owned by Johannesburg Stock Exchange-listed Attacq and Atterbury, which was also the project developer.
Notably, SCP provided a more precise and cost-effective, as well as faster means of waterproofing a total of 18 828m2 of concrete slabs on this fast-track development for the professional services firm.
Storm Waterproofing Systems was contracted by the principal building contractor, WBHO, to provide cutting-edge waterproofing services.
The company was awarded the contract based on the high-quality service it supplied to the leading building contractor on previous projects as a specialist waterproofing sub-contractor. This is in addition to its longstanding working relationship with other representatives of the professional team, namely Norval Wentel Steinberg quantity surveyors and Empowered Spaces Architects. Both companies could also attest to the high-quality service that Storm Waterproofing Systems offers.
The professional team was introduced to SCP 327 by Carl White, Managing Director of SprayLock Africa, the African representative of the United States-based Spraylock Concrete Protection products.
Jared Slater, Contracts Manager of Storm Waterproofing Systems, says that one of the biggest advantages of SCP technology is that it is applied at the time of concrete placement.
"This reaction is the same as cement hydration, which provides most of concrete's desirable properties," Slater explains.
"It penetrates the concrete capillary and pore structure after bleed water exits, reacting with free alkali to primarily form additional Calcium Silicate Hydrate within the concrete. This reaction stops harmful moisture migration within the concrete matrix to acceptable levels for coatings, coverings and flooring. It enhances resistance to chemical and environmental attack; provides permanent protection; increases durability; and reduces scaling and spalling."
Notably, the technology also ensures a superior concrete cure as strong as and if not better than 28-day water-ponding without delays – a significant benefit on fast-track projects.
It eliminates the need for curing membranes, densifiers, floor hardeners and moisture barriers while slabs treated with SCP can be accessed in as little as an hour and installed with flooring and coating within 14 days. The ability to significantly accelerate the waterproofing process also provides construction cost-savings for the client.
Non-flammable and containing no volatile organic compounds, SCP technology is safe and easy to apply.
It is applied within 24 hours of placement of the concrete and once the substrate is hard enough to accommodate the application team. Generally, SCP is applied once the power floaters have finished floating the concrete.
Working to a strict programme that was determined by the principal contractor, Stormwater Waterproofing Systems' team treated between 300m2 and 400m2 of surface in a day. This impressive production rate included preparing the surface ahead of application.
It was an extensive undertaking, starting with 2 817m2 of ground floor, followed by the 2 423m2 first floor and 8 348m2 roof structure.
Waterproofing commenced at the end of 2018 and was completed on time and according to quality in mid-2019.
Impressively, the same team, which was also trained by SprayLock Africa ahead of the application and received additional support on-site by Sheldon White and a representative of the company's principal, also treated
17 500m2 of concrete slabs at the Illovo Central development in Sandton with SCP during this period. Illovo Central is another of FWJK's attractive residential high-rises to grace the Sandton skyline. This exclusive selection of sophisticated residences offers 16 storeys of elevated luxury living.
Certainly, coordinating operations between the two project sites was a complex undertaking – a challenge that was exacerbated by many rainy days during the summer season.
White says that he is proud of SprayLock Africa's association with Storm Waterproofing Systems.
"The company continues to build on a more than a 30 year-long legacy providing cutting-edge waterproofing solutions to the construction industry. Its services are in demand in South Africa and elsewhere on the continent, such as in Kenya, Botswana, Lesotho, Zimbabwe, Zambia and Tanzania where the company has worked on an array of private-sector development projects," he says.
To cater to the growing demand for SCP products across South Africa's borders, distributors have already been established in Kenya and Botswana and more will be appointed in other countries in the foreseeable future.
Key to Storm Waterproofing Systems' success over the years is its robust supply chain, comprising reputable suppliers of waterproofing materials.
Importantly, the company only partners suppliers of high-quality fit-for-purpose products.
"We have always stuck to the 'tried-and-tested', maintaining partnerships with reputable international manufacturers of waterproofing technologies and their local agents for many years. Certainly, we are proud to have a supplier of a product with more than 30 years proven performance as part of our team and we are looking forward to building a long professional relationship with SprayLock Africa and its principal moving forward," Slater concludes.