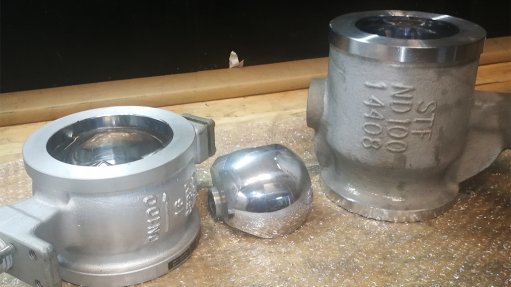 Meyerton-based valve manufacturer Stanfra Abrasive Solutions is exposing South Africa's first 100% locally manufactured quarter-turn segmented ball valves to extreme testing in the pulp and paper industry.
The three test valves, comprising two 100 nominal bore (NB) valves and one 200 NB valve, were manufactured in 2016.
Stanfra Abrasive Solutions CEO Francois Marais says there is a need for an affordable valve that is suited to operating in severe conditions and offers quick delivery and high quality.
He expects the paper and pulp industry to present the greatest demand for the product, owing to the abrasive slurry valves are exposed to.
"A valve in this application normally lasts three to four months and we hope to exceed this life expectancy, as well as obtain approval of our locally manufactured valve from the client."
Established in 2008, the company's core activity is the reconditioning of equipment used in the mining and paper industry, which includes pump shafts, impellers, sleeves, bearing housings, volute casings, rear cover plates and pump helicals.
Stanfra Abrasive Solutions specialises in Ziroflex Coating – a materials hardening process for valve and pump components that have been subjected to the most aggressive applications, as well as Ziroflex TR coating for acid protection and epoxy repairs.
The development of a quarter-turn segmented ball valve was inspired by the need for a South African valve product that offers competitive pricing and a faster delivery time, as all existing quarter-turn valves are being imported from Europe and Asia.
"From raw castings to finished product, it takes Stanfra Abrasive Solutions about two to three weeks to manufacture a valve, while imports take between 8 and 12 weeks to reach South Africa," says Marais.
The development of the valve entailed creating new patterns for valve bodies and segmented balls, shafts and other relevant components.
Available in 80 NB, 100 NB, 150 NB, 200 NB, 250 NB and 300 NB, Stanfra Abrasive Solutions' Gauteng facility has the capacity to manufacture about ten units of each valve size a month.
The valves, produced using 100% locally sourced materials, are designed for severe applications where other segment and ball valves fail.
The manufacturing process, involving five to eight people, entails castings, dimensional machining, inspections, assembly and testing.
He highlights that the valve can be adapted to the end-user's requirements regarding installation mountings and can be adapted to service oil and gas and dry applications, with no additional structural changes necessary.

"We are also in the process of obtaining certification from the Pressure Equipment Directive, CE-marking for European Union product safety directives, ISO 9001 certification for quality management, as well as credentials from the American Petroleum Institute."
The valve is only sold locally at present, with exports expected to take place at a later stage with the assistance of the South African Capital Equipment Export Council.