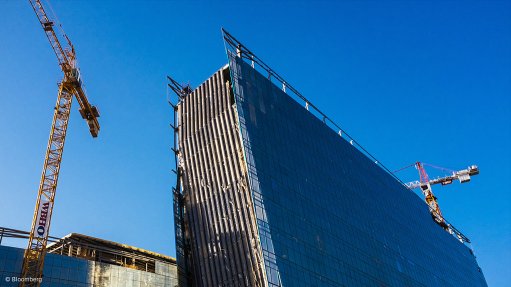 CRUCIAL CONSTRUCTION The upgrade and development of infrastructure is crucial to the sustainability of the cement and concrete industry
Photo by: Bloomberg
Various players in the cement and concrete industry say the sector is hoping and expecting that there will be improvements in the industry after being impacted on negatively for several years.
Cement producer PPC technical information services specialist Hanlie Turner notes that the concrete industry was impacted on by the absence of significant infrastructure projects being awarded. "Residential and industrial projects kept the industry afloat, but very little growth was reported."
Moreover, cement and concrete technical services provider The Concrete Institute MD Bryan Perrie adds that part of the problem is that there is not enough work and there is a lot of spare capacity in the industry. However, he mentions that many in the industry are hoping that things will pick up with the recent change in political leadership.
Reiterating this notion, construction chemi- cals company Chryso Southern Africa CEO Norman Seymore says the recent changes in the country's political environment seem to have brought a renewed feeling of optimism in terms of future growth and development.
"Although it has not yet materialised into something concrete, stakeholders are expecting market conditions to improve during the second half of this year and into 2019."
He adds that stakeholders should be cautiously optimistic.
Turner believes that President Cyril Ramaphosa will inspire greater investor confidence and initiate new infrastructure projects.
Seymore and Turner both mention that, although the industry is quite a way off from getting back to pre-2010 demand levels – leading up to the Soccer World Cup – there is hope for some growth and development. This being the case, the three parties concur that the upgrade and development of infrastructure is crucial to the sustainability of the industry.