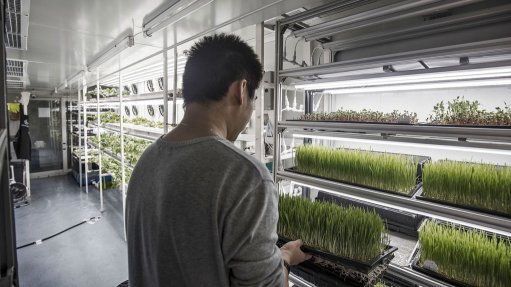 MODERN FARMING Wheat grass and other leafy greens are being grown in vertical farming units in China created out of retrofitted shipping containers
Photo by: Bloomberg
While the appetite for urban farming exists in South Africa, more needs to be done to motivate stakeholders from both the private and public sectors to play a role in creating and growing successful projects that can be translated into sustainable investments, say engineering and infrastructure advisory firm Aurecon environmentally sustainable design consultants Adrie Fourie and Kyra Rautenbach.
They note that, according to the World Bank, global food production needs to increase by 50% in order to feed a population of nine-billion by 2050. This, coupled with the effects of climate change on traditional forms of agriculture, is creating a pressing need for alternative food production avenues globally. An area of just one square meter can provide up to 20 kg of food each year and, as the population increasingly moves into cities, urban farming projects are gaining significant attention as a viable solution.
"With growing human populations adding significant pressure to limited arable land globally, people in [cities] are finding fresh ways to transform their concrete spaces into green opportunities. An integrated approach to agriculture is needed – one that leans heavily on the small and unseen contributions of countless citizens across our urban landscapes," says Aurecon.
Changing the Agricultural Landscape
Aurecon notes that, according to statistics by the United Nations' Food and Agriculture Organisation, urban agriculture is already practised by 800-million people globally – representing between 15% and 20% of the world's food source. However, Fourie highlights that urban agriculture is viewed slightly differently in industrialised and developing countries, with the former considering it a strategy for ensuring national food security, while the latter are focused predominantly on community or subsistence farming.
She notes that, in Asia, for example, there are many highly successful urban agricultural initiatives, including rooftop farms, large-scale, high-tech, vertical urban farming projects and indoor hydroponic growing systems.
"Locally, however, urban agriculture still faces several challenges, but the important role it could play in food security is being considered. Urban agriculture is becoming an integral part of the urban landscape globally and the Development Bank of Southern Africa has been researching these projects to investigate how they can help to address food security issues in South Africa," says Rautenbach.
She highlights that there have been examples where funds have been made available to help communities set up urban farms. However, owing to a lack of appropriate training, the paucity of ongoing mentoring and, in some instances, a lack of adequate farming equipment or an understanding of seeds and crops, these projects did not always reach the required maturity to lead to a successful and sustainable business case.
"On the other hand, some community-based urban farming projects in South Africa's major cities have been successful. This is owing to involvement from the public and private sector in assisting these communities to develop an appropriate business model that is also concerned about the projects' financial sustainability and longevity rather than a quick fix solution to a much larger problem."
She notes that urban farming is a viable option in South Africa – but only if it is supported by relevant structures and focused interventions that can overcome the local challenges. These challenges include education and funding and assistance in implementing a business case that will ensure that the projects are financially viable and sustainable.
"The right support mechanisms need to be available, helping communities think through the entire value chain potential of their project. One can't simply think of the end products that flow from the urban farming process; it is imperative to remember that there are many community, commercial and sustainability issues at play."
Fourie and Rautenbach stress that support for urban agriculture in South Africa will need to be provided from both the public and private sectors, pointing to the voluntary Green Building Council of Australia's Green Star – Communities tool as an example of a successful model.
The Green Star green building rating system was originally developed with a strong focus on creating green buildings, but Green Star – Communities, which was launched last year, aims to move beyond the buildings themselves to provide a method for assessing the planning, design and construction of large-scale development projects at a precinct, neighbourhood and/or community scale.
In December last year, the Green Building Council of South Africa (GBCSA) launched a pilot version of the tool, called Green Star South Africa Sustainable Precincts, and there are currently 14 pilot neighbourhood-scale projects looking to be certified by the GBCSA using the framework.
Of the credits that can be pursued for certification, those that link to urban farming relate to access to fresh food. This could partly be satisfied by being located within easy reach of retail spaces that sell fresh food, but there are additional incentives where local food production is selected as a project objective.
"These are the types of frameworks that are needed to create opportunities for investment in the education of community members so that they understand their role in, and the opportunities within, the urban farming movement," says Rautenbach.
Fourie further suggests that policies linking urban farming projects and local restaurants and stores – which could purchase the produce from the projects – could increase the economic potential of this small-scale farming trend.
"Building on the success stories and taking the lessons learnt from the unsuccessful projects on board will further aid the public and private sectors to work on integrated strategies for the growth and development of the urban farming industry in South Africa," she concludes.