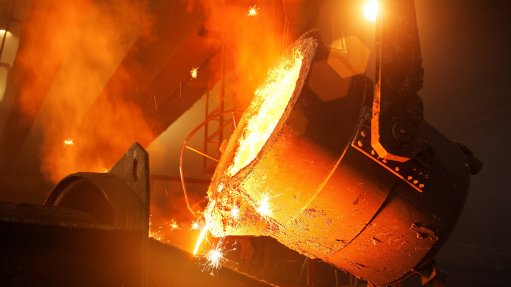 LIGHT AHEAD The stainless steel sector is showing prepandemic consumption levels
Despite significant challenges, such as the Covid-19 pandemic and its ripple effects, the stainless steel sector has shown adaptivity, innovation and resilience.
It is also showing prepandemic consumption levels, with Southern Africa Stainless Steel Development Association (Sassda) acting executive director Michel Basson stating that the sector was one of the first to start up after the initial lockdown, at 50% capacity, compared with the 30% of most others.
While Sassda members' monthly confidence index declined sharply, to just above 20% during the hard lockdown in 2020, it has since shown a steady increase to date.
A three-month outlook indicator has shown confidence levels of more than 50% for the past six months while peaking at a record high of 64%. This has been the highest level since measuring started in 2017, he adds.
The apparent consumption figures at the end of 2021 show that the local industry consumes volumes of stainless steel last recorded in the period from 2015 to 2018.
Further, owing to global supply routes being under pressure and expected to remain that way for some time, a new perspective on potential new supply and new markets has opened for the local stainless steel industry.
"Africa remains one of the most underused new markets for the local industry. Government is facilitating African trade through various agreements with neighbouring countries to streamline the flow of product across Africa," explains Basson.
Chinese subsidies and export rebates on stainless steel products are diminishing, making local products more competitive on a more even global playing field, he notes.
Sassda expects that the automotive industry, with all its subsectors, will be "revived" to prepandemic levels. The automotive industry revival is expected to result in growth potential for South African stainless steel, as well as stainless steel products and stainless steel skills sets, in African countries, especially in East Africa.
However, the impacts of the conflict in Ukraine on global conditions for stainless steel are still uncertain.
The conflict is expected to further impact on global logistics, while the financial uncertainty regarding future food and energy prices puts South Africa under further pressure in terms of future economic growth, explains Basson.
He adds that stainless steel prices will be affected, owing to Russia's being a major global producer and supplier of nickel. This will be a price driver for austenitic grades and, to some extent, the duplex grades.
However, this offers an opportunity for the local stainless steel sector to promote the use of the less costly ferritic alternatives in some applications.
The impact on global logistics also offers the opportunity for new supply chains and collaboration, especially with cross-Atlantic entities, and countries in South and North America.
Europe can also offer new potential for South African products and skills, Basson mentions.
Obstacles on Local Front
The local stainless steel industry also has to contend with challenges that are beyond its direct scope to effectively mitigate or prevent.
These challenges include access to reliable and affordable electricity supply; improved efficiency of export nodes, particularly ports; the level of political will to act against perpetrators of corruption and crime; and a clear national economic growth plan.
The local stainless steel sector has a proven record to be globally competitive. Therefore, if the socioeconomic environment in which the sector functions can be improved through sound policies and implementation by government, it can compete with all global players, says Basson.
"As always, we will act to stimulate and increase the growth of stainless steel conversion in Southern Africa. This means increased tonnage used, but also increased job creation."
One vehicle for job creation in the sector is localisation or import replacement, and measures focused on increasing local content in projects can assist in creating jobs.
The problem is not so much the policy or measure, but what the outcome will be: "If localisation is done in a way that the stainless steel sector remains and develops as globally competitive in terms of price and quality, then we can assume that the jobs created will be proper jobs and sustainable," Basson concludes.