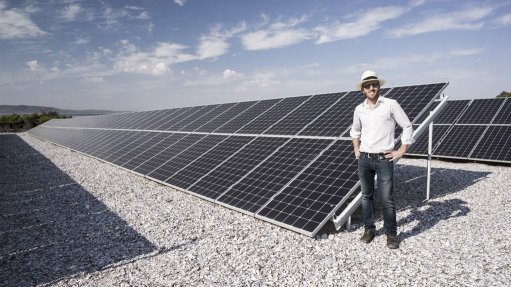 DOM WILLS A reliable power supply on Robben Island has been ensured through a 666 kW solar farm designed by SOLA Future
With solar photovoltaic (PV) installations being recognised globally as the cheapest form of power generation, a key emerging trend is the integration of these systems with storage and transport options, says solar solutions provider SOLA Future Energy CEO Dom Wills.
He stresses that, with the pace at which technology is advancing in the power sector, events such as POWER-GEN & DistribuTECH Africa are crucial for enabling players in the industry to stay current on the trends and developments dominating the sector.
He adds that the event, which will be held at the Sandton Convention Centre in Johannesburg from July 18 to 20, also provides an important opportunity for businesses at the forefront of changes in Africa's power landscape to reach prospective clients and build partnerships that will improve their overall profitability.
Wills mentions that the "hot topic" in this regard is undoubtedly solar power, with a drastic decrease in the cost of solar installations over the past year having caught the global market by surprise. He explains that this has largely been driven by scale, with 76 GW of solar capacity installed globally last year, amounting to a conservatively estimated turnover of about $85-billion.
"As more PV is deployed, investors' confidence increases, and increased volume and efficiency mean that capital expenditure costs are pushed down. The cost of solar has dropped lower than even the most optimistic economists predicted."
With solar now not only one of the cleanest but also the most cost-effective power-generation option on the market, interest is turning to storing the excess power it can produce and transferring it to where it can be used.
"This has huge potential for utility battery storage, as businesses and individuals can buy power for nearly nothing at times of excess and then sell it in times of high need. Business opportunities also exist to sell ancillary services to the grid, such as frequency or voltage support," he says.
Harnessing solar energy, moreover, presents a host of opportunities for businesses across the board, with major automobile manufacturers, for example, able to reach targets for electrically powered cars within the next ten years through solar power.
Wills notes that solar battery storage, thus, needs to be put on the same cost-reduction path that solar power generation has been following for the past few years to maintain its position as the most attractive form of power.
"This is one of those poignant moments in human development where what is good for the environment also makes good economic sense. Solar represents an opportunity to not only provide people with a better quality of life but also ensure that life for future generations."
Microgrids to Change the Future
Wills highlights that the outlook on heavy baseload and centralised grid energy infrastructure is not only becoming more unpopular, but the general perception is that the forward costs of nuclear and coal could potentially put economies at risk. As manufacturing competitiveness relies heavily on energy costs, countries with the lowest energy costs will thrive, while those with expensive power will fail.
"As such, careful consideration needs to be made as to which energy sources should be prioritised. Centralised, baseload-heavy grids are no longer competitive in the global market, while microgrid technology is presenting an exciting prospect for countries with little or fragmented access to energy."
About 90% of Africa is not connected to a grid; therefore, the continent represents an ideal market for microgrids, Wills stresses. "If Africa is going to become an industrialised continent, there is no question that it has to happen through microgrids and renewable-energy systems. The extent to which POWER-GEN & DistribuTECH Africa can help to facilitate this shift, is where the value of the event lies."
In anticipation of the jump in interest in solar power, SOLA Future Energy has increased its focus on the development of PV microgrids and completed one of the largest microgrids in South Africa this year on Robben Island, off the west coast of Cape Town.
Wills highlights that, owing to its significant historical value, the island is a hub of tourist activity, with more than 100 staff members, a harbour and a desalination plant. As a result, the island uses a large amount of energy for daily operations, which has, until now, been supplied by a diesel generation system, contributing to power costs of nearly R10-million a year.
SOLA Future Energy was approached to undertake the design and implementation of a 666 kW solar farm, which produces more power than the island needs on a daily basis. The excess power is stored in an 830 kWh lithium-ion battery, reducing the need for diesel systems, which are only used when there is no sun and the battery is empty.
With the cost of fuel so drastically reduced, Wills highlights that return on investment for the project – which has a 20-year life span – is four-and-a-half years, while ensuring a reliable power supply to the island, independent of the national grid. This means the island will have access to almost free power for nearly 15 years, which will have a significant impact on the profitability of the tours on the island.
"This project provides a prime example of the business benefits that can be achieved through solar systems and we look forward to discussing this further with the other attendees of this year's POWER-GEN & DistribuTECH Africa," Wills concludes.