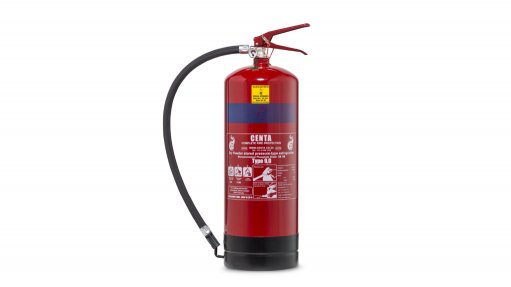 SOLUTION OFFERING Solutions are custom designed to suit specific environments and include design layout, installation and maintenance
Having been a major contributor to raising the quality and safety standards of fire protection equipment for over 25 years, fire protection specialist Centa Group has a thorough understanding of the science of fire and is equipped with the knowledge related to the legal requirements for fire protection equipment.
Providing complete fire protection throughout South Africa and the Indian Ocean islands, Centa is the only fire company in South Africa to locally manufacture a range of fire extinguishers and hose reels – all with the 'Proudly South African' stamp of approval. The company's portable fire equipment includes a range of firefighting powders, fire hoses, cabinets and signage, says Centa Group chairperson Duncan Boyes.
"Centa's commitment to providing dependable fire protection that saves lives and protects property is confirmed by accreditation from various standards authorities, including the South African Bureau of Standards (SABS) and the International Organisation for Standardisation 9001's 2015 certification, the South African Qualification and Certification Committee – Fire, as well as the coveted 'Proudly South African' approval," he further enthuses.
Boyes adds that the company is, however, concerned about the standards of imported fire protection equipment falling below international quality and safety standards in an attempt by suppliers to keep prices lower than those of competitors. He believes that substandard fire extinguishers may not be effective in an emergency situation.
"The Centa factory, which is located in Durban, adheres to stringent international manufacturing standards, which stipulate that all fire extinguishers must put out fires classed as either Class A, B or F. Class A fires involve organic solids like paper or wood, Class B fires involve flammable liquids and Class F fires involve fats such as those used in deep fat fryers," Boyes explains.
Although the design and construction of a fire extinguisher are important, he explains, a critical factor in determining its effectiveness lies in the chemical composition of the firefighting powder.
"Higher-quality powders attain higher fire prevention ratings than lower-quality firefighting powders. Consumers are encouraged to look out for the genuine SABS mark and to check that the extinguisher rating meets international minimum ratings."
Centa's turnkey solutions are custom-designed to suit specific environments and include design layout, installation and maintenance.
Areas of expertise include electronic fire detection, water systems – such as sprinklers and water reticulation – gas and bus suppression systems, and passive fire protection, as well as fire doors and fire retardants, kitchen systems and room integrity testing.
The company also supplies fire protective gear and a range of specialised fire equipment.
Centa's range of environment-friendly, fluorine-free foams, which are internationally approved, can be applied to hydrocarbon and polar solvent fires and have a shelf life of up to 25 years.
"An important part of Centa's service is its national maintenance programme and barcoding scanning system, which ensure fire protection equipment maintenance and location are verified at the click of a button and that they are ready for use at all times in case of an emergency," Boyes notes.
Customers are also able to log onto a user-friendly Internet-based system at their convenience in order to gain access to relevant information about the status of fire protection equipment installed at various sites around the country.
Centa Group – which is black-economic-empowerment-compliant and is currently a Level 2 contributor – prides itself on being a 51% black-owned company.