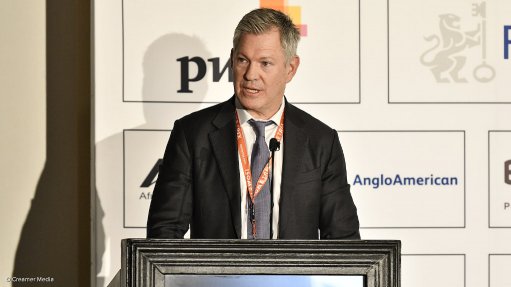 South32 COO Mike Fraser
Photo by: Creamer Media's Dylan Slater
JOHANNESBURG (miningweekly.com) – An overarching challenge to businesses of all sizes in South Africa, is the lack of reliable and competitive power, says South32 COO Mike Fraser.
The reliable and competitive supply of power, he adds, "is critical" to the country's future industrial growth and the creation of jobs.
Speaking at the 2019 edition of the Joburg Indaba, in Sandton, on Wednesday, Fraser stated that the financial challenges facing State-owned power utility Eskom were "a key risk facing the economy".
South32 believes drastic action needs to be taken to ensure the embattled entity's future sustainability.
In this respect, Fraser noted that South32 agreed that the proposed unbundling of the utility into three divisions "makes sense" and that the power generation division needed to become competitive through ensuring a more appropriate coal procurement process.
South32 is a significant supplier of coal to Eskom and Fraser told delegates that "the best way" to reduce the cost of coal to the utility, would be through transitioning back to long-term contracts that would enable a reduction in the transportation of coal by road.
While "there is space" for a smaller spot market, he added that, in the long-term, it would be more beneficial for Eskom if coal volumes were delivered to Eskom's coal-fired power stations from nearby coal mines by conveyor.
MANGANESE
Turning to manganese, Fraser said "there is no doubt" that there has been growth in manganese ore volumes over the last five years in the Kalahari, in South Africa.
This growth has mainly been driven by year-on-year demand increases in China, which imports manganese primarily to replace its domestic volumes, which have "dropped quite considerably".
This has boosted export volumes out of South Africa over the last five years, he pointed out.
According to Fraser, South Africa has "a competitive advantage" when it comes to manganese, considering that the country holds about 80% of the world's known resources of manganese.
"While China is already dependent on imports, we do anticipate that India's imports will also continue to increase over time as that economy continues to grow," he commented.
However, notwithstanding South Africa's significant resource endowment and its competitive advantage, Fraser lamented that the country's logistics costs still placed it relatively high on the cost curve.
Fraser said South32 would look into investing in rapid rail development, which was expected to debottleneck rail transportation and reduce costs.
However, to ensure that South Africa can compete globally for mining investment, he said challenges that disrupt local operations – like unreliable and expensive power supply, low productivity, organised protest action and illegal mining – had to be addressed.
While Fraser acknowledged that these challenges all had "complex underlying causes", he suggested that improving coal procurement costs, for example, could contribute to a more stable supply and competitive price.
This would also boost small business and create more opportunities for job creation, he added.
Fraser further called for greater collaboration between industry, mining communities and government, "since addressing [the industry's challenges] as individuals will not resolve its problems".
This was particularly important in developing social cohesion, he added, which could enable South Africa to unlock investment opportunities.