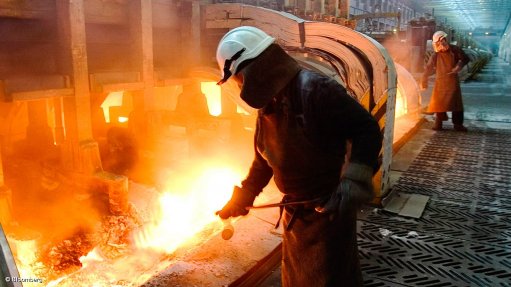 ALUMINIUM SMELTING Aluminium being smelted for semi-finished products
Photo by: Bloomberg
Mining resources company South32 announced in its full report for the 2016 financial year that South Africa's aluminium saleable production was largely unchanged, as the impact of electricity load-shedding events were lower than expected, particularly in the December 2015 half-year.
While high rates of efficiency are being achieved within the pot lines, South32 mentioned that production would continue to be influenced by the duration and regularity of load-shedding.
The company is yet to restart production in the 22 pots that were taken offline in September 2015, owing to market conditions.
Operating unit costs decreased by 19% to $1 430/t in the financial year, reflecting a stronger US dollar, lower aluminium price-linked power costs and weaker raw material prices.
Additional cost savings were realised as the Hillside aluminium smelter, in Kwa-Zulu-Natal, continued to improve its energy efficiency. Hillside sources power from State-owned power utility Eskom under long-term contracts.
The price of electricity supplied to pot lines 1 and 2 is linked to the London Metal Exchange (LME) aluminium price and the South African rand/dollar exchange rate. The price of electricity supplied to pot line 3 is rand based and linked to South African and US producer price indices.
Underlying earnings before interest and taxes (Ebit) rates decreased by $168-million to $82-million in the financial year. The combination of lower realised aluminium prices and premia reduced underlying Ebit by $258-million, net of price-linked costs.
This impact was partially offset by a favourable movement in foreign exchange rates ($66-million) and an increase in sales volumes ($40-million).
Also, capital expenditure decreased by 46% to $19-million in the 2016 financial year, while pretax restructuring costs, including redundancies of about $2-million, were incurred in the period and have been excluded from the company's underlying earnings measures.
The company also notes that production guidance for the 2017 financial year is unchanged for the majority of its upstream operations, although a downward revision is noted for Cannington mine. Production guidance for the 2018 financial year is provided for the first time.
Worsley Alumina saleable alumina production guidance for the bauxite mine and alumina refinery, in Australia, is largely unchanged, with the refinery expected to produce at its nameplate capacity of 4.6-million tons a year in the 2017 financial year and the following year. Similarly, Brazil Alumina saleable production guidance for the next financial year is unchanged at 1.32-million tons, before a small increase in production is expected in the financial year 2018.
Brazil Alumina saleable alumina production increased by 7 000 t to a record 1 335 000 t in the financial year 2016. Production guidance for the following financial year is unchanged at 1 320 000 t. A small increase in production is expected in the financial year 2018 to 1 350 000 t.
Aluminium production for saleable alumina in Brazil was first curtailed in July 2013 and the suspension of all smelting activity was announced in March 2015. The company has sold power until the end of 2017 and has terminated their supply contract with Brazilian power utility Eletrobrás, Eletronorte.
As a result of its decision to terminate the contract with Eletronorte, power sales are not expected to contribute to underlying Ebit beyond the financial year 2016. In this context, a $24-million provision has been recorded in the June 2016 half-year to reflect expected future losses associated with the remaining Eletronorte power supply commitments in the 2017 and 2018 financial years.
The company also mentions in its results that Mozal Aluminium, which is an aluminium smelter in Mozambique, achieved record yearly production of 266 000 t in the financial year under review, as a reduction in load-shedding events complemented an increase in the pot line current efficiency.
While additional productivity gains are being pursued, the cost profile of the smelter will be more heavily influenced by power and raw materials inputs, given the operation's high variable cost base.
Mozal Aluminium has a long-term contract with power generation company Hidroelèctrica de Cahora Bassa (HCB) for hydroelectric power. It sources the power through the Mozambique Transmission Company. HCB also delivers power to the South African grid to Eskom.
South32 mentions that by optimising its operations and maintaining a core focus on value, it generated free cash flow of $597-million and ended the year with net cash of $312-million.