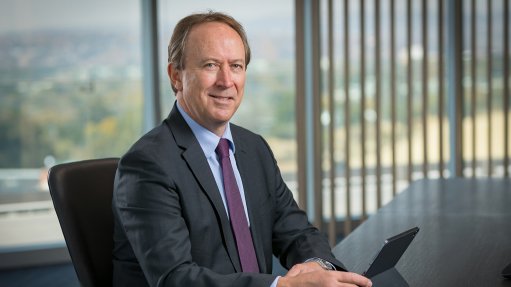 Sasol CEO Fleetwood Grobler
South Africa has three favourable structural characteristics that potentially give it a "first mover advantage" to become a global green-hydrogen leader, Sasol CEO Fleetwood Grobler argued in his address during a 'Hydrogen Economy Discussion' facilitated by well-known mining personality Bernard Swanepoel.
The first advantage relates to South Africa's and Southern Africa's large-scale, high-quality renewable-energy potential.
"Our sun and wind capacities are some of the best in the world, rated on par with Chile, Saudi Arabia and Australia," Grobler noted.
The country had the potential, he added, to produce 922 GW of renewable electricity in the Renewable Energy Development Zones (REDZ) earmarked for such projects, which is well above the 150 GW required by 2050 to meet its power needs.
The designated REDZs encompass 5.35-million hectares of land.
Secondly, South Africa has sufficient land and water resources available for hydrogen production.
"To put this into perspective, about 1% of the country's land would be needed to produce 10-million tons of hydrogen, while the water requirement to produce 1 330 PJ of green hydrogen yearly is about 31% of what the current power sector uses in coal-based generation."
Grobler stressed that green hydrogen could also be produced using desalinated seawater, as the cost of desalination would not add materially to the cost of producing green hydrogen, made by using renewable electricity and an electrolyser to split water into hydrogen and oxygen.
Thirdly, Sasol's Fischer Tropsch (FT) technology, which has been deployed on a large scale in South Africa, provided a ready-made market for green hydrogen, which could progressively displace fossil-based grey hydrogen, as the cost of producing green hydrogen became more competitive.
The JSE-listed group currently consumes 2.3-million tons of grey hydrogen from coal yearly, making its Secunda complex the largest point source of carbon-dioxide emissions in the world.
Grobler said the asset base could be retrofitted to "beneficiate green hydrogen at scale and capture a portion of the global green fuels market, through exports".
He refused to be drawn on the timeframe for the phasing out of grey hydrogen, saying only that much would depend on the pace at which the costs of producing green hydrogen became competitive relative to grey hydrogen.
Speaking during the same webinar, EY-Parthenon's Italy strategy leader Giacomo Chiavari said the cost competitiveness gap between grey and green hydrogen remained significant at about €250/MWh.
However, the cost of producing green hydrogen was expected to fall sharply, he added, in light of a strong project pipeline, comprising more than 330 projects globally, as well as intensifying research and development and rising government support in the form of subsidies and carbon taxes.
International studies indicate that renewable hydrogen production costs were expected to fall by 60% by 2030, and were expected to be cost competitive with grey hydrogen production by the same date.
"Sasol is uniquely positioned globally to pursue a first-mover advantage in large scale green hydrogen through our FT technology and know-how," Grobler said, adding that the group's know-how meant that it was in an immediate position to produce green power fuels and chemicals.
"Unlike our competitors and peers who would have to pursue greenfield investments end to end, we would be able to leverage our existing assets, enabled by cost affordable green hydrogen production and renewable sources of carbon, to produce sustainable products."
Under a moderate scenario, Sasol believes there is already potential domestic demand of three-million tons and that a further three-million tons, or more, could be exported to international markets, mostly in the form of sustainable fuels and green chemicals.
Under a more ambitious scenario, where the cost of green hydrogen falls to $1.50/kg or lower, Southern Africa could capture as much as 10% of the European and Asian import markets.
Enertrag new energy solutions head Dr Tobias Bischof-Niemz underlined the export potential, which would arise primary in the form of green-hydrogen derivatives, such as green ammonia, steel, shipping fuel and sustainable aviation fuel.
Enertrag is partnering with Sasol, Afrox and Navitas on a sustainable aviation fuel initiative, involving the deployment of green hydrogen, wind and solar assets at Secunda, in Mpumalanga, to produce carbon-neutral jet fuel. Currently, Sasol produces certified aviation fuel from coal.
Such fuels are in high demand, particularly in Europe, which is increasingly prepared to pay premium prices for carbon-free fuels, chemicals and steel.
ONLY AN ADVANTAGE IF YOU MOVE
Should South Africa secure shares of between 5% to 10% in such markets, Bischof-Niemz estimated the country could add €160-billion a year to its export earnings; a figure that was equivalent to half of the country's current gross domestic product.
"South Africa has a unique first mover advantage . . . but it's only an advantage if you move," Bischof-Niemz stressed, noting that many other countries with similar resources, such as Australia, were taking aggressive steps to position themselves for the green-hydrogen opportunity.
Council for Scientific and Industrial Research senior researcher Thomas Roos concurred, saying that green hydrogen made it possible for South Africa to monetise, through exports, its sun and wind.
"It's currently very difficult to monetise renewable electricity at scale as we have few customers – the South African power pool is significantly smaller than the opportunity and there's no high-voltage DC electric line to Europe.
"However, we can export our sunshine and wind in the form of hydrogen and hydrogen-related products," Roos argued, noting that Germany's national hydrogen strategy states that the bulk of its 2030 green hydrogen requirement of between 2.7- to 3.3-million tons will have to be imported from countries with strong renewable resources.
HySA Infrastructure Centre of Competence director Professor Dmitri Bessarabov stressed that, besides reducing the cost of green hydrogen production, which was key to broad-based adoption, more attention should also be given to the infrastructure and regulations required for transporting and storing green hydrogen.
Most of the 80-million tons of hydrogen currently produced, primarily from fossil fuels, was being produced and used on-site, but Bessarabov said that large associated infrastructure would be required in future to deliver green hydrogen to points consumption.
The finalisation of a national hydrogen strategy was another important component to exploiting this "nascent" opportunity, Grobler said.
"We are engaging across industries and governments, domestically and abroad, to enable the co-creation of the Southern African hydrogen economy over the next few decades."
Trade, Industry and Competition Minister Ebrahim Patel established a green hydrogen panel in July to advise government on commercialisation opportunities and models.
Department of Trade, Industry and Competition acting director-general Malebo Mabitje-Thompson said that panel, which included private and public stakeholders, had been tasked with providing input on policy interventions that could support the implementation of "catalytic projects", as well as how to maximize the commercial and localisation potential of green hydrogen.
Industrial Development Corporation COO Joanne Bates reported that the commercialization strategy could be published in October or November and would include actions for ensuring that the catalytic pilot projects are executed.
Namibia's Presidential economic adviser, James Mnyupe, appealed for South Africa to adopt a regional approach given Namibia's potential as a green-hydrogen export hub, arguing that cross-border collaboration could help ensure that Southern Africa become a green-hydrogen leader.
Mnyupe lamented the lack of regional economic diplomacy on green hydrogen to date, revealing that his attempts to make contact with his counterparts in the South African Presidency had proved futile.
"Let's talk about building complementary neighbouring infrastructure that directs the whole region and then go with that to multilateral platforms and raise concessionary financing for a regional play," he urged.